Texas telecoms provider Big Bend Telephone is to build a colocation data center in Midland, West Texas.
Built to Tier II standards, Phase 1 of the BBT Midland 1 Data Center in the Permian Basin will have a capacity for 70 racks and 2,000 square feet (21,500 sqm) of floor space. Phase 2 of the project will offer an additional 300 racks of capacity. Approval for a 120 ft. tower on site has been accepted and will also be available for lease.
Click here to download the latest issue of DCD's magazine
Big Bend builds first data center in Midland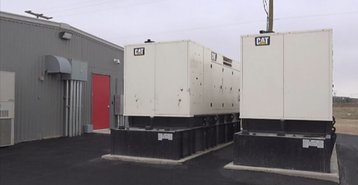 Originally set due open in late February or early March of 2021, the data center is now due to open in June 2021. It is reportedly the first multi-tenant facility in the area. BBT said five years of market research found there was enough demand in the area to justify the data center.
"We've been doing market research here for a little over five years and we determined that there was enough demand here and need for a facility like this where businesses could co-locate their critical business infrastructure in a safe, secure environment with guaranteed power and up-time," said Neville Haynes, Big Bend Telephone VP data center operations.
"This facility will serve as an aggregation point for that data to help get it out, get that data out of the Permian Basin," Haynes said. "Much like we were having trouble a few years ago getting oil out of the Permian, the same is with data."
Founded in 1960, BBT is headquartered in Alpine, Texas, and provides voice and fiber services to those in the Basin area.