Indian telco Bharti Airtel and Google's parent Alphabet project are planning to use lasers to bring Internet services to remote parts of India.
Taara, a project from Alphabet's X moonshot labs, aims to bring high-speed Internet access to rural and remote areas of India. It uses a technology component from X's failed Loon project, which tried to deliver Internet connectivity via high-altitude balloons.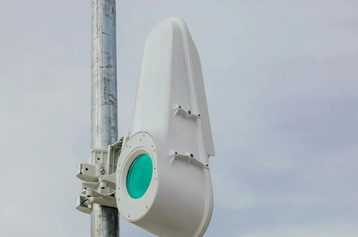 First reported by Reuters, Bharti Airtel is set to roll out a large-scale deployment of the new technology, which delivers Internet with beams of laser light.
Taara transmits information between terminals at speeds of up to 20 gigabits per second as a very narrow, invisible beam of light. Bharti will deploy a series of terminals to relay information where fiber networks aren't cost-effective. It is effectively fiber optic Internet without the cables, beamed between base stations the size of a traffic light.
Financial details of the deal were not disclosed. Taara said this is its largest deployment in India to date, following several pilot projects.
Before Taara, Alphabet had proposed distributing Internet access using stratospheric balloons in Project Loon, a 'moonshot' idea begun by Google's X skunkworks lab in 2011 before being spun out in a separate business unit under Alphabet in 2018. The aim was to use balloons in the stratosphere at an altitude of 18-25 km (11-16 miles) to create an aerial wireless network to deliver the Internet to remote and rural communities. High costs led Google to shut down Project Loon in 2021.
Named after the Estonian god of lightning, Taara was established in 2019 after Loon's failure, and uses a laser backbone originally designed for the Loon project, which has been repurposed for use on the ground.
Astro Teller, CEO of X, describes this as "moonshot composting" and says the ground lasers are already proving successful: "Taara is moving more data every single day than Loon did in its entire history."
Taara has helped provide Internet services in 13 countries including Australia, Kenya, and Fiji, and has been involved in trials with Liquid Intelligent Technologies in Congo, as well as with Bluetown in India and Digicel in the Pacific Islands.
Taara CEO Mahesh Krishnaswamy told Reuters: "We are trying to be one of the cheapest and the most affordable places where you would be able to get a dollar per gigabyte to the end consumers," he told Reuters.
In 2020, Google committed $10 billion to help digitize India, and invested $700 million for a 1.28 percent stake in Bharti in 2022. Reuters reports that the partnership between Taara and Bharti Airtel is separate from the Google investment.
Last year Alphabet spun out a new company called Aalyria to offer networking tech originally developed for Project Loon. That company recently partnered with Leidos to integrate its Spacetime networking technology with the defense firm's network management and protection solutions.