A software defined data center company and a US utility have built a data center directly on the power grid in a bid to cut costs and boost reliability.
In December, DCD reported that Arizona power company Salt River Project and BaseLayer (which claims to have invented the software defined data center) were conspiring to launch a facility that runs directly off the power grid. The rationale is to ease the demands on the power grid as data centers proliferate in the region. Arizona is popular with operators for its scarcity of natural disasters and relatively cheap power. The new concept could also make back up generators and UPS systems redundant, according to BaseLayer.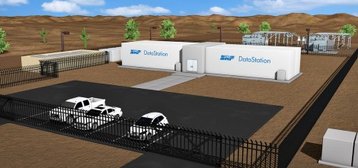 Ribbon cutting
Patricia Hoffman, the U.S. Department of Energy (DoE) assistant secretary for the office of electricity delivery and energy reliability, spoke at the ribbon-cutting ceremony at the Corbell Substation in Gilbert.
SRP and the DoE plan to develop a reliability rating system for reliability that will allow the modular data center's configuration to be benchmarked against traditional data centers.
The prototype SRP DataStation is about 19 per cent more energy-efficient than traditional data centers, claimed Clint Poole, manager of the SRP Telecom group.
"Arizona already is a very attractive market for data centers," he said. "We are trying to be more attractive."
With two direct links to power, the facility is being built without back up generators or batteries, which SRP claims will slash 40 per cent off construction costs. Being on the grid is all the fault tolerance a facility needs, according to Poole.
This could be bad news for the power management vendors, according to Poole, since data center power equipment – like UPS and generators – is the most common cause of failure. "We take all of that out of the building and attach it to our highly reliable power source. Our power grid as a backbone has an exponentially greater reliability rating than a standalone building," said Poole.
Baselayer spun off rrom Phoenix-based data-center services company IO.