Chinese cloud company Baidu has launched its first quantum computer, while Japan's Fujitsu is aiming to commercialize its own quantum hardware next year.
This week Baidu announced its first superconducting quantum computer that it said "fully integrates hardware, software, and applications" and incorporates the hardware platform with Baidu's home-grown software stack.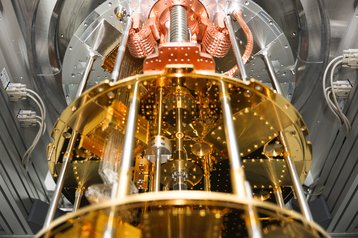 Named Qian Shi, the new system is located at Baidu's Quantum Computing Hardware Lab in Beijing.
Qian Shi currently offers quantum computing service offering 10 qubits. Baidu said it recently completed the design of a 36-qubit superconducting quantum chip.
The company said it had also designed quantum hardware-software integration solution called Liang Xi. The system is able to plug into Qian Shi and other third-party quantum computers, including a 10-qubit superconducting quantum device and a trapped ion quantum device developed by the Chinese Academy of Sciences.
"With Qian Shi and Liang Xi, users can create quantum algorithms and use quantum computing power without developing their own quantum hardware, control systems, or programming languages," said Dr. Runyao Duan, Director of the Institute for Quantum Computing at Baidu Research. "Baidu's innovations make it possible to access quantum computing anytime and anywhere, even via smartphone. Baidu's platform is also instantly compatible with a wide range of quantum chips, meaning 'plug-and-play' access is now a reality."
Fujitsu plans first Japanese quantum system
In Japan, Nikkei reports that Japan's Fujitsu and Riken research institute plan to jointly offer quantum computers to companies in the fiscal year starting in April 2023.
The system will be the first quantum system in Japan offered by a domestic company.
The companies intend to first build a 64-qubit quantum computer for research organizations by 2024. They then plan to work on the 1,000-qubit machine, which they plan to deliver by 2026.
The two companies opened a quantum R&D collaboration center in Wako, Saitama prefecture, Japan in 2021.
Fujitsu earlier this year announced it had developed a 36-qubit quantum computing simulator and a joint quantum computing application project with Fujifilm. At the time, Fujitsu said it would accelerate its efforts to develop quantum computers with the aim of developing a 40 qubit simulator by September 2022.
The 36-qubit quantum simulator is designed for a cluster system consisting of 64 nodes on Fujitsu's PRIMEHPC FX 700 supercomputing server, which is equipped with the same A64FX CPU that powers the supercomputer Fugaku, and can perform theoretical peak performance of three teraflops in double-precision floating-point format calculations.
IBM has previously delivered one of its IBM Quantum System One machines to Japan. To be used by the University of Tokyo, the system sits within an IBM facility.