Swedish data center operator Bahnhof wants to build a nuclear reactor to power a new data center, according to local news reports.
The company, famous for its Pionen facility styled like the lair of a James Bond villain, is putting together plans for a small modular reactor (SMR) on an industrial site in the Hjorthagen area of Stockholm which would provide electrical power for a new data center, as well as 30,000 households, along with heat for homes and offices.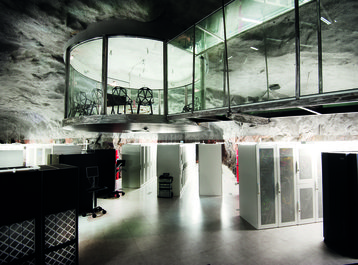 "I am absolutely prepared to go into it," said Bahnhof CEO Jon Karlung in an interview with SVT Nyheter. "Ten years from now it is quite possible."
Details of the project are scant, in the article, which appears to be prompted by a survey of 20 large Swedish businesses, which found Bahnhof was one of three large electricity consumers who would be prepared to invest their money in a new nuclear plant that would supply their needs in future. The other pro-nuclear organizations are gas company Linde and mining firm Boliden.
Bahnhof has seven data centers in Swedish cities and is looking into using nuclear power at a facility currently under construction in Hjorthagen. The company is well known in the data center world for its underground Pionen data center in central Stockholm, which is built in a former government nuclear bunker, and has backup power provided by diesel engines recovered from submarines.
Sweden is an energy exporter with a lot of hydropower and other renewable energy (around 40 percent), as well as around 31 percent from nuclear reactors, but it still produces 28 percent of its electricity from oil and coal.
In response to global heating, and the energy crisis brought on by Russia's invasion of Ukraine, Sweden has recently announced that previous limits to nuclear energy expansion in the country will be lifted, with a new €25 million ($26.4m) investment in nuclear research, alongside renewed investment in wind power.
Small modular reactors (SMRs) have been proposed as a way to take the risk out of nuclear power, which has historically been plagued by huge cost overruns on giant reactor projects. By contrast, SMRs are intended to be built to a standard design that can be tested and approved centrally and then built reliably in factories, as components that can be shipped to their eventual destination.
Some data center operators are said to be interested in the idea.
Leaders in the field include NuScale in the US, and Rolls-Royce in the UK. Sweden also has local SMR expertise, including the company Kärnfull Next, which has signed an agreement with Finnish utility Fortum to jointly explore opportunities for SMRs in Sweden. Kärnfull is also working with Japan's Hitachi.
Meanwhile, Swedish energy company Uniper has applied for a grant to research SMR applications in the country.
"A nuclear power plant here can be rational," said Karlung in the news site's video [Google translation]. "I think it would be nice to come up with a solution where you reuse energy, produce electricity with the small reactor and you do it as a whole ecosystem for the whole project."
Karlung accepts that nuclear power in central Stockholm would be "provocative" but says new nuclear plants could meet existing needs in cities. "There is of course a political view of it where you might not think about it," he says. "I do understand the problem with maybe putting a facility in the inner city, but ten years from now it is quite possible."