Rolls-Royce has gained £195 million ($264m) in funding to set up a small modular reactor (SMR) business in the UK, which plans to deliver smaller and more economic nuclear power plants.
The SMR reactors, which could power data centers and be partially funded through power purchase agreements (PPAs), would each cover about 4 acres (the size of two football pitches) and deliver 470MW of steady power, at a price that could compete with renewables, which are only produced intermittently.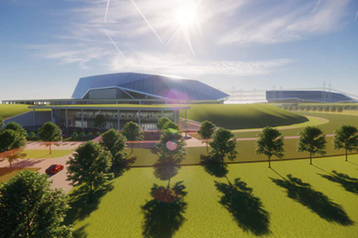 Rolls-Royce has raised £195 million ($264m) to add to £210 million ($287m) previous promised by the UK government.
£195m of funding
Nuclear power currently provides 21 percent of the UK's electricity and is part of Government plans to reduce the carbon intensity of the electric grid, as nuclear power has low emissions of greenhouse gases (GHGs) and can provide a steady supply in contrast with intermittent renewables. However, most of the UK's nuclear reactors are aging, and new projects like Hinkley Point are subject to delays and cost over-runs which make them uncompetitive with renewable power on cost grounds.
The Rolls-Royce SMR plan is supposed to change that, by delivering plants that are one-fifth the capacity of plants such as the 2.3GW Hinkley Point, while costing only one-tenth the price.
They are constructed using factory-made components, which are assembled on sites. This should make the SMRs quicker to deliver, and the generic design could in theory be pre-approved, enabling them to be deployed more widely, and possibly used as off-grid supplies, partly funded by large industrial consumers such as data center parks.
"Nine-tenths of an individual Rolls-Royce SMR power plant will be built or assembled in factory conditions and around 80 percent could be delivered by a UK supply chain," says the Rolls-Royce release. "Much of the venture's investment is expected to be focused in the North of the UK, where there is significant existing nuclear expertise."
Rolls-Royce hopes to make ordering a nuclear power station as easy as ordering a jet-engine, and hopes to establish a similar export market. "You don't have to go back to government for a once in a generation decision like Hinkley Point," said Alastair Evans, director of corporate affairs at Rolls-Royce, in an interview with DCD.
Evans confirmed to DCD that Rolls-Royce is keen to talk would welcome data center operators partially funding SMR installations: "We are keen to present the off-grid application of stable secure green power to any and all carbon-intensive industries."
Evans also addressed criticism of the nuclear industry's production of waste: "The nuclear industry takes accountability for its waste. The fossil fuel industry doesn't do that. If the fossil fuel industry had managed their waste, in as responsible a way as the nuclear industry, then we wouldn't be having COP26 and climate conferences to try to solve the problem we're in now."
Generic approval
Rolls-Royce, BNF Resources UK, and Exelon Generation are coming up with the £195m between them, over the next three years.
The SMR business will submit a design to the UK Generic Design Assessment (GDA) process which approves new nuclear installations, and will also start identifying sites for the factories it will need to build the reactor components. The exact business model is still being decided, however: "Discussions will continue with the UK Government on identifying the delivery models that will enable long-term investment in this vital, net-zero enabling technology," says the Rolls-Royce release.
Warren East, Rolls-Royce CEO adds, "the SMR program is one of the ways that Rolls-Royce is meeting the need to ensure the UK continues to develop innovative ways to tackle the global threat of climate change. With the Rolls-Royce SMR technology, we have developed a clean energy solution which can deliver cost-competitive and scalable net-zero power for multiple applications from grid and industrial electricity production to hydrogen and synthetic fuel manufacturing. The business could create up to 40,000 jobs, through UK deployment and export enabled growth. As a major shareholder in Rolls-Royce SMR, we will continue to support its path to successful deployment."
Business and Energy Secretary Kwasi Kwarteng said: "This is a once in a lifetime opportunity for the UK to deploy more low carbon energy than ever before and ensure greater energy independence. Not only can we maximize British content, create new intellectual property and reinvigorate supply chains, but also position our country as a global leader in innovative nuclear technologies we can potentially export elsewhere. By harnessing British engineering and ingenuity, we can double down on our plan to deploy more home-grown, affordable clean energy in this country."
Tom Samson, CEO, Rolls-Royce SMR, said: "Our transformative approach to delivering nuclear power, based on predictable factory-built components, is unique and the nuclear technology is proven. Investors see a tremendous opportunity to decarbonize the UK through stable baseload nuclear power, in addition to fulfilling a vital export need as countries identify nuclear as an opportunity to decarbonize."