Azure, the number two public cloud provider, is seeing enterprise adoption rates greater than those for AWS for the first time, according to a report.
In several areas, usage and adoption of of Azure is exceeding that of AWS, according to the Flexera State of the Cloud report, which is based on a survey of professionals, most of them cloud decision makers. The report found that the difference between the two was slight, with Google Cloud the next most popular cloud platform.
The report also noted a possibly-more-important cloud tipping point: more than half the respondents' workloads are in the public cloud, and that will increase in the next year.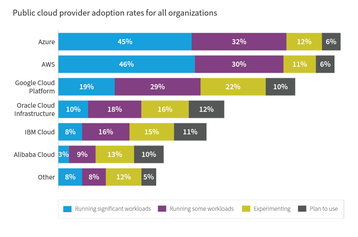 The results are not definitive, however - they are based on a survey with 753 responses, which also and found that most respondents have a multi-cloud strategy.
Half our data is in the public cloud
"In several instances in the 2022 survey, Microsoft Azure usage met or exceeded that of Amazon Web Services (AWS)," says the report's summary.
The report found that AWS, Azure, and Google Cloud Platform were the top three public cloud providers as usual, but "for the first time, Azure has closed the gap with AWS, while other cloud providers have not shown much growth".
Oracle is placed fourth, but its cloud had the largest number (12 percent) planning to use it in future.
As Flexera points out, adoption—meaning an organization is using a cloud provider—is only one factor, and other factors include the number of virtual machines (VMs) running and PaaS cloud services used with each provider and their plans for future adoption. On Flexera's sample, AWS appears to be still ahead on the total numbers and usage.
"Public cloud provider adoption is based on the organization's cloud usage level," says the study. "As organizations mature, they tend to gravitate toward market leaders. Data from this year's survey indicates Azure seems to be either closing the gap—or has slightly surpassed—AWS with some users.
"As the first large-scale cloud provider, AWS is used more frequently by organizations that have been using the cloud over a longer period and are heavy cloud users. Across all respondents, 81 percent of heavy cloud use organizations use AWS compared with 80 percent using Azure. Among organizations with moderate cloud use Azure has a slight lead and enjoys higher adoption for organizations that are light users."
In private clouds, it seems Azure has an actual lead (37 percent), displacing the VMware vSphere (31 percent) for the first time.
The survey round that 50 percent of respondents' workloads, and 48 percent of their data, are currently in public cloud, with respondents saying they expected these figures to increase to 56 percent of workloads and 55 percent of data in the next 12 months. SMBs have been adopting faster, with around two-thirds of their workloads and data in the public cloud; for enterprises, the figures were slightly lower, but enterprises were also expected to pass the halfway mark in the next year.
Cloud spends are large: eight percent of all respondents spend more than $60 million per year on public cloud services, and more than half spend over $2.4 million. Amongst enterprises, 80 percent are spending more than $1.2 million per year, and 37 percent of organizations with more than 1,000 employees spend more than $12 million a year..
Surprisingly, given their size, it seems that 53 percent of small to medium businesses (SMBs) are spending more than $1.2 million per year on public cloud.
Other results from the survey include the finding that most organizations' multi-cloud strategy consists of multiple public cloud services, and multiple in-house private clouds (48 percent) or multiple public clouds and a single private cloud (31 percent).
Those multi-cloud strategies seem to be driven by inflexibility, rather than an urge for flexibility, however. Most companies (45 percent) said they had applications siloed on different clouds.