Amazon Web Services announced a number of new hardware and software technologies and services at its re:Invent conference this week.
New Outpost appliances
AWS announced two new form factors for its Outpost local appliance. Where previously Outposts was available as a 42U rack, the service is now available in 1U and 2U form factors for 'locations such as branch offices, factories, retail stores, health clinics, hospitals, and cell sites that are space-constrained.'
The 1U server is 19 in wide, 24 in deep, and is available with C6gd instances powered by Graviton2, with 64 vCPUs, 128 GiB memory, and 4 TB of local NVMe storage.
The Outposts 2U server is 19 in wide, 30 in deep, and is available with C6id instances powered with 3rd generation Intel Xeon Scalable processors, with up to 128 vCPUs, 256 GiB memory, and 8 TB of local NVMe storage.
AWS has also widened the availability of Outposts to include Costa Rica, Ecuador, Morocco, Nigeria, and Vietnam.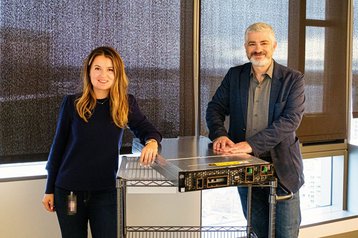 Tape Migration
AWS expanded its Snow family of migration appliances to include offline tape data migration capabilites for AWS Snowball Edge, allowing companies to migrate tape data into AWS environments.
"You can get rid of your large and expensive storage facility, send your tape robots out to pasture, and eliminate all of the time & effort involved in moving archived data to new formats and mediums every few years, all while retaining your existing tape-centric backup & recovery utilities and workflows," said AWS evangelist Jeff Barr.
The company said the new service will allow petabytes of data stored on physical tapes to be moved without changing your existing tape-based backup workflows as well as eliminate physical tape infrastructure and gain online access to tape data.
AWS Private 5G
The company also announced the preview of AWS Private 5G; a managed service for setting up and scaling private enterprise 5G mobile networks in facilities.
Customers specify where they want to build a mobile network and the network capacity needed, AWS then delivers and maintains the small cell radio units, servers, 5G core and radio access network (RAN) software, and subscriber identity modules (SIM cards) required to set up a private 5G network and connect devices. Customers only pay for the network capacity and throughput they request. The service is in preview in the United States.
"AWS Private 5G simplifies the procurement and deployment allowing customers to deploy their own 4G/LTE or 5G network within days instead of months, scale up and down the number of connected devices rapidly, and benefit from a familiar on-demand cloud pricing model," the company said.
AWS IoT TwinMaker
TwinMaker enables developers to create and use digital twins of real-world systems to monitor and optimize operations. The services can ingest data from other AWS services such as IoT SiteWise or Kinesis Video Streams which can be combined with 3D models to create a twin.
New EC2 instances & Graviton3
The company announced a number of new instances for its EC2 elastic compute service, including ones powered by the new third generation of its Arm-based Graviton processors:
EC2 M6a instances featuring AMD Epyc Milan processors
EC2 Im4gn and Is4gen instances powered by AWS Graviton2 processors
EC2 C7g instances powered by AWS' own Graviton3 processors for HPC and other compute-intensive uses
EC2 G5g instances powered by AWS Graviton2 processors and featuring Nvidia T4G Tensor Core GPUs.
EC2 Trn1 instances featuring Amazon's own Trainium machine learning chip optimized for deep learning training.
EC2 M1 Mac Instances using Mac Minis to build & test apps for Apple devices.
AWS Mainframe Modernization
AWS announced a new mainframe migration service that can help customers migrate their 'big iron' infrastructure to AWS quickly. The services provides all the development, testing, and deployment tools necessary to automate the migration from mainframe and legacy environments to AWS.
" It allows customers to migrate and modernize their on-premises mainframe workloads to a managed and highly available runtime environment on AWS. This service currently supports two main migration patterns – replatforming and automated refactoring – allowing customers to select their best-fit migration path and associated toolchains based on their migration assessment results," the company said.
AWS Direct Connect SiteLink
The site Direct Connect SiteLink service allows companies to create connections between on-premises networks through the AWS global network backbone.
"Until today, when you needed direct connectivity between your data centers or branch offices, you had to rely on public Internet or expensive and hard-to-deploy fixed networks," said Sébastien Stormacq, Developer Advocate for AWS. "Starting today, you may connect your sites through Direct Connect locations, without sending your traffic through an AWS Region. Traffic flows from one Direct Connect location to another following the shortest possible path. You no longer need to connect through the closest AWS Region and manage and configure an AWS Transit Gateway for site-to-site network connectivity."
AWS Cloud WAN
AWS Cloud WAN is a new wide-area networking (WAN) service to help build, manage, and monitor a unified global network that manages traffic running between resources in cloud and on-premises environments.
" With Cloud WAN, you use a central dashboard and network policies to create a global network that spans multiple locations and networks—eliminating the need to configure and manage different networks individually using different technologies," the company said.