Amazon has launched a metaverse-esque game, AWS Cloud Quest: Cloud Practitioner, with the goal of training users in AWS cloud skills.
Announced on March 15, the 'game' brings players into a virtual city where, in order to win, they must complete 'quests' by helping people solve real-world technology issues and cloud use cases.
AWS Cloud Quest is an interactive training software designed to prepare users for the AWS Certified Cloud Practitioner exam.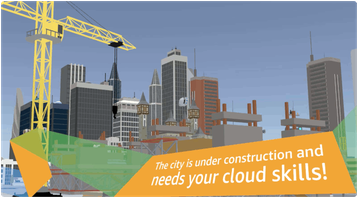 The free game is aimed at those who are in the early stages of their career, or new-to-cloud learners and is part of Amazon's commitment to invest hundreds of millions into providing free cloud computing training to 29 million people by 2025.
Kevin Kelly, director of Cloud Career Training Programs at AWS, said: "We want to help address the tech skills gap, putting free skills training in the hands of anyone with a desire to learn more about cloud computing."
"AWS Cloud Quest and AWS Educate intentionally move away from passive content. We want to make abstract cloud computing concepts real through interactive and hands-on activities that immediately let learners turn theory into practice."
The game's design bridging the gap between real and virtual worlds is extremely similar to moves we are seeing across the tech industry towards the so-called 'metaverse'; a virtual/digital world where we interact via avatars.
The metaverse is a buzzword that has seen a lot of traction recently. Earlier this month at the Mobile World Congress in Barcelona, Meta CEO Mark Zuckerberg requested there be more importance placed on better networks in order to support the 'metaverse'. This year alone, Zuckerberg is intending to spend $10bn on metaverse products.
Wide use of the metaverse will spark a massive increase in demand for the data center industry, due to the high-compute nature of its technology. The metaverse will primarily be accessed via a head-mounted display, such as smart glasses or a VR headset, which significantly changes the resolution requirements of content.
Meta VP of Connectivity, Dan Rabinovitsj, conceptualized this: "Streaming a 720p video on a standard smartphone screen requires 1.3 to 1.6Mbps of downlink throughput, and on a smartphone held at arm's length, 720p resolution is sufficient to achieve human retinal resolution. But on a head-mounted display sitting just centimeters from the eyes, retina grade resolutions will need to be many orders of magnitude larger, even beyond 4K resolutions."