AT&T has filed a petition through the Federal Communications Commission (FCC) in an effort to block T-Mobile's plans to use Starlink satellites to expand its mobile network service.
For SpaceX, the owner of Starlink, its latest spectrum spat arrives just as its dispute with Dish Network over 12GHz spectrum ends.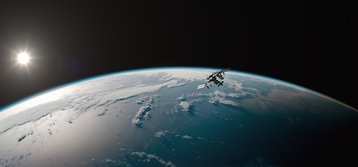 In the filing, which was dated May 18 and the same day SpaceX won its case against Dish, AT&T cited how important it is that supplemental coverage from space (SCS) services are not allowed to interfere with existing terrestrial wireless services.
The operator was responding to the FCC, which had called for comments after T-Mobile and SpaceX requested authorization to deploy SCS, to supplement the mobile operator's terrestrial network using SpaceX satellites.
T-Mobile and SpaceX are planning to use T-Mobile's Broadband PCS G Block spectrum, according to the filing.
The two companies outlined their plans to provide mobile connectivity from Space in August of last year, as part of plans to leave no area without coverage in the US, via Starlink's satellites.
AT&T has a gripe with the plans as it's also a license holder of frequencies adjacent to the specific block of spectrum in question, and has concerns that satellite-based phone operators could disrupt the delivery of terrestrial wireless services.
"Americans rely on wireless connectivity to access telehealth platforms, educational resources, important government services, and more," the filing states. "In evaluating potential SCS deployments, the Commission must prioritize protecting these foundational terrestrial networks."
"The FCC's rules do not permit SpaceX's proposed use of T-Mobile's terrestrial spectrum, and Applicants fail to even request — much less justify — rule waivers that would be necessary to authorize their proposed SCS authorizations. More broadly, the Applicants' technical showings are woefully insufficient regarding the risk of harmful interference posed by their planned SCS deployments. SpaceX and T-Mobile's applications fall far short of meeting the threshold for waiver and cannot be granted in their current state.
"SpaceX and T-Mobile also have submitted an FCC Form 608 notifying the Commission that they have executed a spectrum manager leasing arrangement permitting SpaceX's use of the frequencies. To date, it does not appear that SpaceX and T-Mobile have begun testing any SCS deployments," added AT&T.
In the filing, AT&T also outlined its own progress around the deployment of SCS services through its partnership with satellite partner AST SpaceMobile.
The operator said it "intends to provide the demonstrations necessary to show that they will not cause interference to any authorized terrestrial systems" after the duo filed several forms to the WTB notifying that it had entered into a spectrum manager leasing arrangement under which AT&T will "lease certain spectrum to AST for the provision of SCS services".
AST recently completed what it claims to be the first-ever space-based voice call directly to an unmodified smartphone from the Midland, Texas area to Japan. The test was conducted from AST's BlueWalker 3 satellite in cooperation with AT&T, Rakuten, and Vodafone.
DCD has contacted T-Mobile for comment.