AT&T has announced it is introducing a drone-based 5G network.
The drones, named 5G Flying COWs (Cell on Wings), are the first of their kind to provide 5G network speeds, although similar technology has been used for years to provide LTE coverage.
According to Ethan Hunt, AT&T Unmanned Aircraft Systems principal program manager, the Flying Cows can transmit strong coverage up to approximately 10 sq miles (16 sq km).
"We had intermittent, weak LTE signal at the flight location before we launched the 5G Flying COW," he said of the test flight in Missouri that happened in April.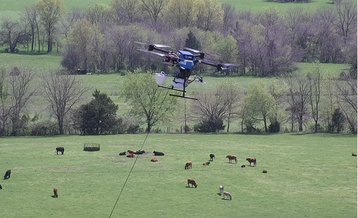 In other words, those in the area attempting to stream video could have found they suddenly had access to 5G speeds where they previously did not.
Getting 5G into remote areas is notoriously difficult. Dependent on very densely deployed small cells, 5G coverage outside towns is expensive; infrastructure needs are immense and its reach is limited to devices in close proximity of towers. Flying COWs could provide a solution to this issue, and could also be a huge help to first responders in search and rescue missions.
AT&T has been using this technology for years to provide LTE coverage to customers during big events, such as this year's Super Bowl, and disasters. While other companies may use 5G signals to communicate with drones, the Flying COW will act as a cell site actually located on a drone.
Art Pregler, Unmanned Aircraft Systems program director at AT&T, said of the project: "We are currently working through many exciting technical challenges to expand the capabilities of our Flying COWs."
"We're working to autonomously fly without tethers for months without landing, using solar power to provide secure, reliable, and fast 5G connectivity to large numbers of users over wide geographic areas. This solution may one day help bring broadband connectivity to rural and other underserved communities across the US and elsewhere."