Atos is to supply Swansea University with a new supercomputer.
The French technology company will provide the university with a BullSequana X410 supercomputer. It will be used by research groups in mathematics, engineering, science, and medicine for AI research and industrial applications.
The supercomputer will use Nvidia A100 Tensor Core GPU architecture and Mellanox HDR 200Gbps InfiniBand networking and will be the largest NVIDIA A100 deployment in the country. The HPC system will be based at Swansea University's energy-efficient Bay Data Centre.
Atos Bullish on supercomputers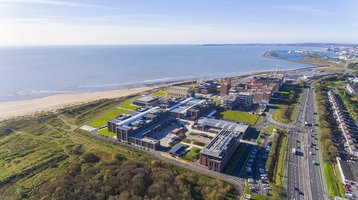 "We are pleased that the delivery of this cutting-edge, AI BullSequana X410 supercomputer will empower academics across Wales to drive forward potentially ground-breaking discoveries," said Professor Biagio Lucini, Director of the Swansea Academy of Advanced Computing at Swansea University. "Building on the success of the Supercomputing Wales project, this highly innovative equipment will improve how AI is implemented into industry and used to solve research problems, while strengthening Wales' position as a leading supercomputing hub."
Atos is part of Supercomputing Wales – a joint Atos and Dell EMC supercomputing Centre of Excellence partially funded by the European Regional Development Fund (ERDF) through the Welsh Government. The program aims to provide research teams access to supercomputing resources at facilities across the country including Cardiff, Swansea, Bangor, and Aberystwyth Universities.
"The BullSequana will provide researchers across Wales with state-of-the-art hardware to enable new scientific advancements on machine learning and deep learning algorithms," added Agnès Boudot, Senior Vice President, Head of HPC & Quantum at Atos. "As the first large-scale deployment of the Nvidia A100 architecture, we believe this is an exciting milestone for supercomputing-enabled research in Wales, supporting its ambition to be a world leader in high-performance computing as part of the Supercomputing Wales project."
Last month Atos announced it had been selected by the Spanish State Meteorological Agency (AEMET) to supply and install a new supercomputer utilizing AMD Epyc processors.
The company also filed a lawsuit in the UK against the Met Office and the Department for Business, Energy, and Industrial Strategy citing a breach of procurement laws in its selection of a new Met Office supercomputer provider.