Arcus Infrastructure Partners has acquired Luxembourg and German data center firms European Data Hub and SDC SpaceNet DataCenter.
Last week the European-focused fund manager announced its Arcus European Infrastructure Fund 3 SCSp (AEIF3) had acquired an 85 percent shareholding in European Data Hub (EDH) from the Luxembourg-based Wagner Group. Terms of the deal were not shared.

EDH operates an underground data center in Luxembourg offering 5,500 sqm (59,200 sq ft) and 1.2MW of capacity. Located in the Drosbach office complex at the Cloche d'Or, the facility is currently undergoing an upgrade to increase the existing floorspace's power capacity to 3MW; stage one of the upgrade should be completed in Q1.
"The regional European data center market is on a growth trajectory and after extensive market mapping, we identified EDH as an excellent investment for the AEIF3 data center strategy," said Christopher Ehrke, Arcus Partner. "Not only does EDH fit squarely within this strategy, but it also demonstrates strong ESG credentials with potential for further improvement in this respect. EDH is a well-performing business in a strong market, and we look forward to working together with our local partner towards realizing its full potential."
Located 22m underground across three floors, the facility is Tier IV and EN50600 certified. It hosts customers including the European Court of Justice and game hoster Game Core, which produced a video of the site.
Aloyse Wagner, president of the Wagner Group, said: "We are pleased to welcome Arcus as an investor in EDH. Arcus is a strong player in the infrastructure market, and we are excited to partner with them to support the next phase of EDH's expansion."
"We have the ambition of expanding our whitespace footprint in the Luxembourgish market," said David Celis, CEO of EDH, "and the combined forces of Arcus and EDH will ensure this and strengthen the quality of the services provided to our customers."
Arcus was advised by Baker McKenzie, Arup, BDO, and AON. Group Wagner was advised by DSM Avocats à la Cour.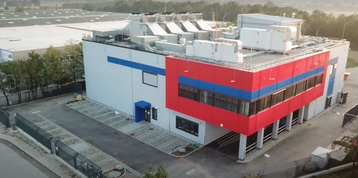 Arcus acquires SDC SpaceNet DataCenter
Arcus last month acquired SDC SpaceNet DataCenter GmbH & Co, KG (SDC) from German ISP SpaceNet AG. Terms of the deal, again made through the AEIF3 fund, were not shared. The transaction is expected to close in the first quarter of 2023.
Launched in 2019 and located in Kirchheim, Munich, the SDC data center offers 5,400 sqm (58,125 sq ft) of data center space with capacity for 2,800 server racks. Telefónica Deutschland is a customer.
Arcus partner John Shea said: "We have evaluated numerous data center businesses across Germany and Europe over the past few years. SDC stood out as a very suitable first acquisition for our data center aggregation strategy due to its great location, high-specification design, market-leading energy efficiency characteristics, high-quality anchor customers, and development potential."
Sebastian von Bomhard, managing director of SDC and member of the SpaceNet Board of Directors said the on-site team will remain the same and there will be a "smooth continuation" of data center services for all SpaceNet customers
Founded in 1993, SpaceNet AG is an Internet provider and will continue to be a long-term customer of SDC, which will house the IT servers and equipment of SpaceNet's business customers. SpaceNet also operates three other data centers in the Munich area.
Michael Emmer, COO of SpaceNet AG, added: "Arcus is a partner we very much see eye to eye with, which was important to us in the sale context as well as with a view to our future long-term partnership. The development of SDC fulfilled our ambition to create a data center with the highest availability, physical security, and the most energy-efficient characteristics possible. On this basis, we have the fullest confidence in SDC to house both our servers and those of our valued customers."
Arcus was advised by Noerr, Arup, BDO, and AON. SpaceNet was advised by Poellath.