European Data Hub, based in Luxembourg has been certified to the EN50600 reliability standard, saying this is a way to differentiate itself from the large number of reliable data centers in the tiny European country that are certified to the Uptime Tier IV.
The underground data center, one of the largest facilities in Luxembourg, has become the first site in Europe - and probably the world - to claim compliance with the European EN50600 data center infrastructure standard, at the highest availability rating. The site is managed by commercial real estate company CBRE.
The EDH site already has Tier IV Design certification, but does not have the Constructed Facility certification of the actual built data center, according to information from Uptime Institute, which operates the Tier system for reliability certification. Instead, it has opted for the EN50600 standard, developed by the European standards body CENELEC. The EN50600 standard does not have a formal certificate, but EDH had its site audited by a data center auditing firm Capitoline.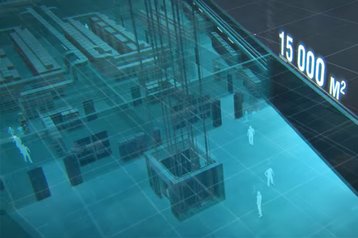 Highly reliable
The European Data Hub data center is 22m under ground and has 5,500 sq m of data center space. In separate IT rooms, it hosts customers including the European Court of Justice and game hoster Game Core, which produced a video of the site. 
The EN50600 standard considers architecture, cabling, security, DCIM, power, cooling and fire protection. EDH has now been certified under EN50600 as Class 4 for Building Construction, Power Distribution, Telecommunications Cabling Infrastructure and Class 4e for Environmental Control, the maximum level in each part of the standard.
The current EN50600 standard will eventually be supplemented with standards for management md energy management, and key performance indicators (KPIs) will be published.
The site has static and rotary UPS, and multiple generators on site.
Luxembourg is a tiny country but it has plenty of Tier IV certified facilities including those operated by LuxConnect and EBRC. 
If you want this information again, with a driving soundtrack, and cracking CGI effects, we recommend you watch the video below, produced by EDH tenant Game Core.