Arctic Space Technologies and Viasat have officially launched a new ground station antenna in Öjebyn, Sweden.
In February Viasat Inc. announced it would locate a ground station satellite dish at Arctic Space's site in Piteå.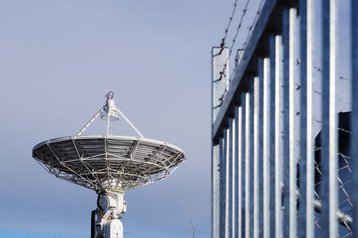 "We at Arctic Space were happy to open our doors to an amazing opening ceremony last Friday," Arctic Space said in a LinkedIn post this week. "Coming all the way from the USA, we welcomed Steve Tanous, the RTE director at Viasat Inc., our new partner to officially declare the opening of the Lita site in Öjebyn, Piteå."
The dish is part of Viasat's new Real-Time Earth (RTE) Ground-Station-as-a-Service (GSaaS) offering, providing satellite operators and customers time slots on shared antennae, rather than requiring dedicated ground station infrastructure.
The new RTE facility in the city of Piteå will host a total of four Viasat full-motion 7.3-meter S/X/Ka-band antennas and associated infrastructure. Customer satellites will be able to connect to Viasat's RTE ground station up to nine times per day.
Arctic Space Technologies operates a ground station facility next to and connected to a data center operated by EcoDataCenter. The Swedish ground station facility was built in 2021.
AST said the required civil works for this dish were completed within only three weeks during the summer and antenna installation was performed within only two weeks during January 2022. Infostellar also installed an antenna on the site last year.
AST partnered with EcoDataCenter in June 2020 to locate and connect ground station infrastructure to the latter's Piteå facilities. The data centers – acquired as part of a merger with Fortlax in 2019 – comprise two hydroelectric-powered buildings and a second EMP-protected site in the area. The company's footprint in the city totals 3,250 sqm (35,000 sq ft) and 4.5MW.
In the UK, Arqiva has installed a nine-meter Ku-band antenna for Viasat at one of its UK teleports. The build, completed in just eight weeks, is for telemetry, tracking, and command (TT&C) of the upcoming three ViaSat-3 satellites.
"We are genuinely delighted to have been given the opportunity to build the new ViaSat-3 TT&C antenna," said Lesley Wilson, head of Satellite Gateway and Data Services at Arqiva. "Ensuring it was successfully completed in just eight weeks was a major achievement and reflects the excellent collaboration between the Viasat and Arqiva teams."