Widespread broadband outages in Alaska have been blamed on an undersea fiber optic line being severed by Arctic sea ice.
Alaskan broadband provider Quintillion, said the break happened about 55 km north of Oliktok Point due to "ice scouring" that occurs when floating ice drifts into shallower areas and grinds the seabed, damaging plant and animal ecosystems and, in this instance, infrastructure.
Quintillion said it could take between six to eight weeks to fix the severed line.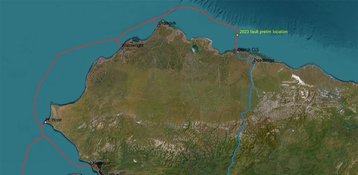 The outage affected towns including Nome, Kotzebue, Point Hope, Wainwright, and Utqiagvik, forcing them to rely on backup Internet via satellite and microwaves, reported Alaska News Source.
"Our dedicated team of experts is actively engaged in diagnosing and resolving the issue," said Quintillion in a statement. "They are working in coordination with our partners and undersea cable maintenance teams to restore the services at the earliest possible time."
The company confirmed that a repair vessel is en route to the area.
"We have engaged our marine maintenance vendor, provided data regarding the existing facilities nearby the fault location, and are planning the repair operation. We are continuing to pinpoint the repair location using coherent optical time domain reflectometer equipment located at our Oliktok Point cable landing station. This will support repair planning and ultimately expedite the repair process."
As of last night, publicly listed numbers for Wainwright and Point Hope could not be reached, while John Handeland, the mayor of Nome, said the town went a day and a half without access to credit card machines or working phones.
Quintillion said it's unable to provide an exact timeline for service restoration, with the situation dependent on the timing of ice breakup and repair requirements.