Subsea cable company Aqua Comms has acquired Indian cable landing company Openbyte Infrastructure.
The D9-owned company this week announced the acquisition of Openbyte Infrastructure Private Limited, an India-based licensed telecom company focused on providing 'neutral, open access landing solutions for submarine cables'.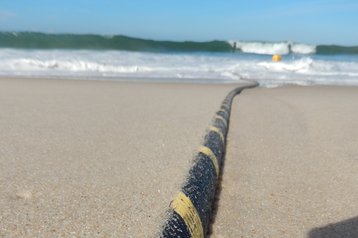 Terms of the acquisition were not shared.
The deal will see Amit Vyas appointed as CEO, India, and regional chief business development officer for Aqua Comms. Amit will be supported by Neeraj Katiyar, CTO, India, and chief global architect for subsea cables.
Vyas said: "Openbyte was founded to provide cost-effective, open-access solutions to make submarine cable capacity accessible to all interested stakeholders, enhance the digital infrastructure of the country, and eliminate bottlenecks. I'm absolutely delighted to join the team at Aqua Comms who share our vision. Over the next 5 to 7 years the international digital infrastructure in India will be greatly enhanced and we at Aqua Comms will be at the forefront of bringing out this change for the better."
Nigel Bayliff, CEO of Aqua Comms added: "This is an important acquisition as we continue to execute our plans to expand the Aqua Comms business into new geographies and as we build out our global network. Amit & Neeraj are well-recognized industry professionals and bring with them rich global experience, particularly in India, Asia-Pacific and the Middle East."
Bayliff told TelecomTV that the India team will have "a major PoP [point of presence] in Mumbai when our EMIC asset goes live in 2024," followed by other landing station PoPs on the west and east coasts of India. "Our strategy is to partner locally for the in-country distribution to data centers and common hubs," he added.
Founded in 2014, Aqua Comms was acquired in April 2021 by Triple Point Management firm D9. Aqua comms operates the AEC-1 and CeltixConnect-1 cables and is part of the AEC-2/HAVFRUE cable consortium.
The company is also developing the EMIC-1 cable (a sub-system of 2Africa Pearls) which is set to run from Barcelona in Spain to Mumbai in India, with landing points in Marseille, France, and Genoa, Italy. EMIC-1 is expected to begin commercial operations in 2024.
The company has partnered with Telecom Egypt for the crossing and landing of the cable in Egypt. EMIC-1 will land in Ras Ghareb on the Red Sea, and Port Said on the Mediterranean Sea side.
Aqua recently announced CEO Nigel Bayliff will be leaving the company in April 2023, to be replaced by Jim Fagan.