Canadian semiconductor licensing company Alphawave is to acquire SiFive's OpenFive business unit for $210 million.
SiFive is a fabless semiconductor company and provider of RISC-V processor designs. Founded in 2015, SiFive announced the creation of the OpenFive business unit in 2020 to focus on processor-agnostic custom System on Chip (SoC) design.
Alphawave this week announced the acquisition of the entire OpenFive business unit from SiFive Inc., expanding its connectivity and SoC portfolio and capabilities. Alphawave will be acquiring a 300+ person team from the California-based firm, located primarily in India.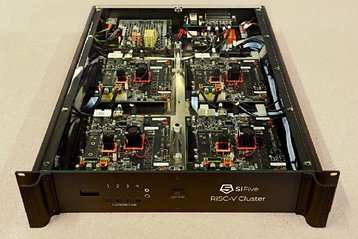 Alphawave develops digital signal processing (DSP)-based, multi-standard wired connectivity silicon IP solutions, which it licenses out to other companies in a similar business model to Arm.
"By adding capabilities to deliver custom silicon, including chiplets, Alphawave will be a leading provider of connectivity solutions globally, as the only pure-play provider of connectivity solutions in both IP and silicon form-factors to the most sophisticated customers globally including hyperscalers and major semiconductor companies," Alphawave said.
The company said the acquisition will nearly double the number of connectivity-focused IPs available to customers from 80 to over 155. Alphawave has also licensed RISC-V processor IPs from SiFive as part of the transaction.
The deal is – due to paid in cash – is expected to close in H2 2022. In terms of customers, the deal increases Alphawave's customer base from 20 currently more than 75, and adds an additional hyperscale customer based in North America.
"When we completed our IPO in 2021, we committed to continuing to grow and accelerate our business by deploying the capital we raised. This began with the acquisition of Precise-ITC in 2021, and the addition of the OpenFive team will further accelerate Alphawave's business," said John Lofton Holt, Executive Chairman of Alphawave. "Alphawave can now deliver bundled connectivity-focused IP solutions and custom silicon solutions like chiplets to global customers. This will enable a scale and top-line growth that we envisioned, but much faster than we expected, while continuing to deliver high growth and profit margins for years to come."
Tony Pialis, President and CEO of Alphawave, added that the company expects to develop and acquire "additional capabilities" to further expand in the future.
Patrick Little, Chairman and CEO of SiFive, said: "It has been a pleasure working with the Alphawave team on this transaction, and I am sure that we will continue to work together as SiFive focuses on its core RISC-V business. We were also pleased that Alphawave licensed SiFive's RISC-V processor IP as part of the transaction, which further demonstrates the importance of SiFive RISC-V technology to high-end customers globally in a variety of end markets."
More in IT Hardware & Semiconductors