Aligned Data Centers has launched a material tracing system that will help it reduce its environmental impact by tracking assets across its supply chain
The OriginMark system uses QR codes to identify items of data center equipment, track their entire lifecycle and flag up possible recycling and recovery options. The company says this will accelerate its goal of supply chain decarbonization and circular asset management.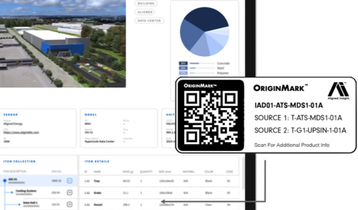 The OriginMark system uses an open data structure, so embodied carbon data can be tracked and computed, from large uninterruptible power supplies (UPSs), generators and power distribution units (PDUs) to customer equipment distributed across Aligned's facilities.
Aligned, which operates in Texas, Arizona, Utah, and Virginia, offers a vendor-managed inventory (VMI) program to partners, allowing them to use OriginMark during construction and deployment.
"Today's hyperscale companies and cloud providers have set aggressive sustainability and carbon reduction targets focused on achieving net-zero emissions in the very near future. Having transparency into the environmental impact of their global data center footprint is critical to realizing these goals," said Phill Lawson-Shanks, chief innovation officer at Aligned. "By deploying enhanced material traceability across our data center campuses, Aligned will be able to combine robust carbon footprint quantification data with our energy-efficient platform and renewable energy options."
Aligned has promised to move towards net-zero. In 2020, the company announced it would match its electricity use with renewable energy using bundled Renewable Energy Credits (RECs). In December 2021, Aligned and other colocation providers signed up with Ledger8760 for carbon accounting. Ledger8760 has since changed its name to nZero.