APAC-focused data center firm AirTrunk has extended its sustainability-linked credit facilities by more than US$2 billion.
The company this week announced the refinancing of its corporate sustainability linked loan (SLL) to AU$4.6 billion (US$2.96bn), more than doubling its initial AU$2.1 billion (US$1.35bn) SLL which closed in September 2021. If the company hits certain ESG goals, it will see reduced interest payments on its debts.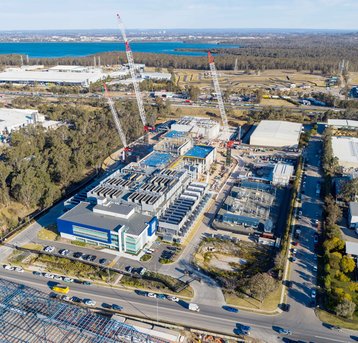 The transaction will be used to refinance AirTrunk's existing debt facilities and support the company's expansion across the region.
AirTrunk chief financial and commercial officer, Prashant Murthy, said: "In the last two years, we have announced the development of more than half a gigawatt of new capacity in APJ. This landmark SLL ensures that as we scale across the region, we do so as sustainably as possible, driving the industry forward by redefining sustainable financing standards."
Murthy continued: "With an innovative combination of KPIs linked to the key environmental focus areas in the industry across carbon emissions, energy and water efficiency as well as gender diversity and equity, we are demonstrating our commitment to responsible and sustainable growth."
KPIs tied to interest repayments of this SLL include carbon usage effectiveness (CUE), operating power usage effectiveness (PUE), operating water usage effectiveness (WUE), gender diversity, and gender pay equity.
AirTrunk said this SLL is the first to utilize a CUE metric, and therefore the first to combine all three of CUE, WUE, and PUE. The company said it is also the first by a data center company to incorporate a gender pay equity target.
The company plans to invest all margin incentives from the SLL into social impact initiatives in areas including equal digital access, STEM education, biodiversity and conservation, and innovation and research and development.
In September 2021, the Australian firm converted its existing corporate loan facility of more than AU$2.1 billion (then US$1.545bn) into an SLL. All of its financing is now tied to sustainability targets.
Last year AirTrunk secured a green loan to finance the development of its TOK2 data center campus in Tokyo, with repayment terms tied to PUE and water efficiency goals. It then again secured another ~AU$650 million (US$432.5m) SLL in Japan. The company said this latest refinancing excludes AirTrunk's existing ~A$1.2 billion (US$774m) sustainable financing in Japan.
AirTrunk aims to be carbon net zero by 2030.
Whether general-purpose sustainability-linked loans or project-specific green bonds, sustainability-linked financing is quickly becoming a common trend amongst data center and telco firms. The likes of Equinix, AirTrunk, ESR, SunEvision Verizon, Aligned, Telefónica, NTT, Digital Realty, Flexential, and Nabiax have all raised new green-tied funds or converted existing debt to include interest rates tied to sustainability and ESG goals.