The US Air Force is plowing ahead with its own cloud platform, after the cancelation of the JEDI cloud program and the slow progress of its successor, JWCC.
The Air Force will use the 'Cloud One' platform rather than hold off until the Joint Warfighting Cloud Capability (JWCC) is ready to roll out.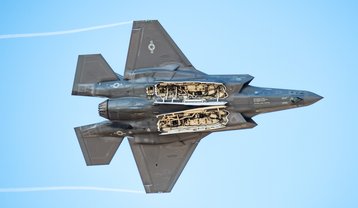 "The short story is we're not waiting, we haven't waited, we will continue to not wait for anybody else to come and provide us with capability," Air Force CIO Lauren Knausenberger told FedScoop.
"We're moving forward, we're moving out, we're continuing to improve" Cloud One, she added. Cloud One is an $800 million service relying on AWS, Microsoft Azure, and Google Cloud (Oracle is promised to come soon), that is available to the Air Force, as well as other parts of the DoD.
But the Department of Defense has long sought a single cloud service or system to span the entire military complex.
The Joint Enterprise Defense Infrastructure (JEDI) contract was originally set to handle almost all of the Department of Defense's cloud computing needs - with the entire $10bn contract set to go to one company.
First announced in 2018, the effort was immediately delayed by lawsuits, lobbying, and potential Presidential interference.
Three years later, after mounting legal challenges and calls for President Trump to testify, the DoD scrapped the whole project. It was reworked as JWCC, a similar cross-DoD cloud platform, but this time with Microsoft, AWS, Google, and Oracle all competing over different parts of it.
But the new $9 billion contract has already officially been delayed twice, and may yet slip further. This makes it too unreliable for the Air Force to turn to as its cloud platform.
However, Knausenberger said that she hopes that JWCC is awarded "soon," adding that it "may give us some better pricing on compute... and if it does, we'll still use our Cloud One as a front door and we will purchase that compute via JWCC."
Should JWCC offer more advantages, then it may be used more widely, Knausenberger continued.
"If JWCC comes into the market, and those vendors are able to just rapidly and magically almost spin-up fully accredited environments and just really knock it out of the park for migrations, then we can use it for even more things," she said.
"And if it can solve the problem of global data sovereignty, where I can just leverage any data center anywhere in the world, and we understand that if that data is so encrypted, or if it's just a shard of data that is maybe sitting somewhere else in the world… could it really cause, you know, a problem with that data being somewhere other than US soil?
"If we can solve that problem with JWCC I will be thrilled. If we can solve that problem, multiple levels of classification, and simplify the process of sending data between levels of classification and make that immensely easier than it is today, with many, many, many, many levels of approval before it actually does work pretty well, on the other end of that work — those are all things that I hope for JWCC."