Google has promoted Adaire Fox-Martin, the head of its international cloud business, to the top sales job at Google Cloud, and given her overall control of the cloud platform, which has been performing badly compared to rivals AWS and Microsoft Azure.
The head of Google Cloud in the Americas, Kirsten Kliphouse, has left the company, and Google says the reorganization is aimed at "unifying" the company's approach to cloud sales and services. It comes at a time when cloud growth overall has slowed as some companies question the all-in approach and move loads out of the cloud, while Google's own cloud operation continues to trail behind its rivals at Amazon and Microsoft.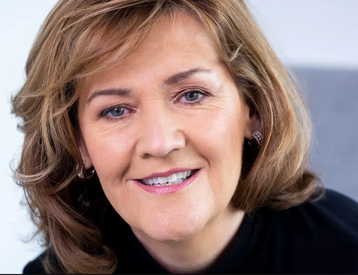 Meanwhile, Google's parent Alphabet has laid off 200 staff (15 percent of the workforce) at its Verily Life Sciences subsidiary, and also cut 40 staff at the Intrinsic robotics outfit.
"Google Cloud, after 10 years of trying, is still a distant second to Amazon and Microsoft in the business," commented Jessica Lessin of The Information, which broke the story. "Google is looking at its business model for the next 30 years. Its maturing search ads business won't be its growth engine in the future. In theory, cloud will be, but the unit's upcoming sales picture looks tough."
While Google Cloud is lackluster, Amazon's cloud is still booming, says Lessin.
The previous president of Google Cloud, Robert Enslin, left Google in May 2022, and has not been replaced, but Fox-Martin's new role as "President of Google Cloud Go-to-Market Organization," effectively takes that role, with a stronger emphasis on sales, and bringing that into line with services and support.
Fox-Martin joined Google in 2021 from SAP, as part of an ongoing effort to bring in execs to boost sales at Google Cloud. Before this promotion, she was president of Google Cloud International and head of Google Ireland.
A Google statement said: "Adaire is a seasoned leader with more than 30 years of experience in sales, services, support, and customer engagement. Google Cloud is one of the fastest-growing businesses within Alphabet, and bringing our global teams together will enable us to drive new levels of productivity and consistency across the organization, and deliver even greater value and improved experiences for our customers and partners."
Silicon Angle quotes an internal Google memo from CEO Thomas Kurian to sales staff: "Adaire has extensive, board-level industry experience in sales, services, support and customer engagement, across all regions in which Google cloud operates. She has a proven track record of bringing diverse teams together to deliver value and exceptional experiences for our customers and partners, and I look forward to the cohesiveness she will build within and across our organization going forward. Bringing our global teams together again will enable us to drive new levels of productivity and consistency across the organization."
Further down the org chart, Google announced that Michael Clark, head of sales for Google Cloud's East region, will become vice president of the North America Region, while Chris Sakalosky, who led sales at the healthcare and life sciences divisions, will become VP of North America strategic industries. The former VP of strategic initiatives, Philip Moyer, will be responsible for commercializing artificial intelligence products.