Frank de Frémery has been appointed the head of data centers and colocation at network operator and digital infrastructure company Exa Infrastructure.
Frémery joins the company after nearly six years at boutique data center advisory practice AC Niellsen, which tragically lost co-founder Simon Hartnell earlier this year.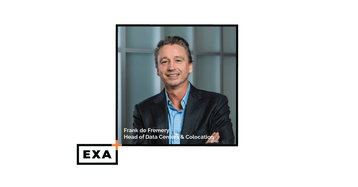 Prior to his time at AC Niellsen, Frémery was the CEO of the small Curaçao-based telco Tres Networks, the chief commercial officer of the Curacao Technology Exchange, VP of sales at Linxdatacenter, a manager at T-Systems, director at CenturyLink, and a sales executive at AT&T.
"Frank will be responsible for driving efficiency and growth of our data center and colocation business," Exa said on LinkedIn.
"Exa Infrastructure operates over 300+ colocation facilities* in Europe and North America, fully integrated into the network, including 14 carrier-neutral Tier III equivalent data centers. Our approach has always been to allow a unique level of customization of space, power, and services. As a niche colocation provider, Exa goes the extra mile to design and build customized solutions for customers and the industry-specific expertise that Frank will add to our business represent an added value for our customers.
Exa was formed by I Squared Capital last year after it acquired GTT's infrastructure business. It includes GTT Communications' prior acquisitions of Hibernia Networks (bought in January 2017 for $590 million); Perseus (bought in June 2017 for $37.5 million); Interoute (bought in February 2018 for $2.3 billion); and KPN International (bought in July 2019 for €50 million (then $59m). Hibernia remains the lowest-latency fiber-optic path between New York and London.
The company owns and operates 110,000 route kilometers of fiber network.
*While it operates 14 data centers, the 300 colocation facilities are more like Edge locations or sites in other companies' data centers.