Architects have built a flat in a former data center in the center of Paris, giving it a distinctive retro 1970s design.
The 1970s building on the outskirts of Le Marais (Paris XI) has been turned into a mixed space including offices, housing, an amphitheater, and a swimming pool. Tasked with creating a 250 sq m (2,700 sq ft) ground floor living space with no natural light, Ubalt Architectes decided to "intensify" this unnatural environment, and fully revive the 1970s, using plexiglass, colored metal joinery, iridescent curtains, and concrete.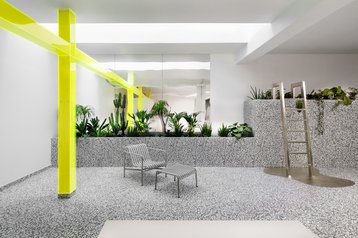 Lost in space
"This loft is located on the ground floor and overlooks the covered circulation of the building," says the release from Ubalt, a team of two interior designers, Nastasia Potel and Mylène Vasse. "This is the great particularity of this space, which is almost blind, with no view of the outside and little light. With this observation in mind, the project's intention was to intensify this phenomenon rather than to come up against it."
The only light to enter the flat comes in through the ceiling at the end of the living area: Ubalt has placed a jardiniere below this to make the most of the light.
The plan shows a hallway with three bedrooms, a bathroom and a living room designed to look like an "interior patio," with a strange decorative ladder standing in a metal puddle. "The materials echo each other to offer an identity and a staging to the spaces and in particular to the blind rooms of the flat," says Ubalt.
"The whole project seeks to offer a dreamlike and self-sufficient universe," says the designers. However, they do acknowledge the possibility that no one will actually want to live there: "The intensification of the project also involves the possibility for this space to be transformed to change its destination and become a showroom, a workplace or a place of awakening thanks to its double kitchen, laundry, storage spaces, projection room/gymnasium and bedrooms that can easily be transformed into meeting rooms."
DCD contacted Ubalt for more details, but has so far been unable to find out more about the data center which formerly occupied the space. "Unfortunately by the time we visited the place everything had already been cleared out a long time ago," said Nastasia Potel. "Only the walls remained."
We welcome any further information from other readers.