A 3D printed building in Heidelberg, Germany, is set to be used as a data center.
Cloud and data center provider Heidelberg iT Management announced this month it will use what is set to be the 'largest 3D-printed building in Europe' as a server hotel from the end of 2023.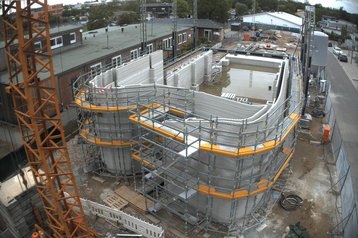 Real estate developer & investor Kraus Group, along with 3D printing construction firm Peri 3D Construction, and building materials firm Heidelberg Materials, are leading the project along with SSV Architekten Heidelberg and Mense-Korte ingenieure+architekten.
Hans-Jörg Kraus, managing partner of the Kraus Group, said: "As an independent family business with a long tradition and a future ahead, we want to promote innovative construction methods in Heidelberg and make a positive contribution to sustainable building methods."
Known as Baufeld 5 and located at Billie-Holiday-Strasse 7 in Baden-Württemberg, the building will total just under 600 sqm (6,600 sq ft). Construction work using a BOD2 3D construction printer began in late March and is expected to complete at the end of July this year, after which internal fit-out of the data center will begin.
"We are experiencing an increasing demand for data center capacity and cloud infrastructure. Therefore, the decision to go with the project with the Kraus Group and a server hotel using innovative 3D printing technology on the commercial site in the south of Heidelberg was an obvious one," said Matthias Blatz, managing director of Heidelberg iT. "We are very proud that our server hotel is being built in the largest 3D-printed building in Europe."
Peri 3D is part of the scaffolding firm Peri Group. Cobod – privately owned by General Electric, with CEMEX, Holcim, and Peri as key shareholders – manufactures the BOD2 construction printers. The actual printing is estimated to only require around 140 hours, equivalent to printing 4 square meters of building per hour.
Fabian Meyer-Brötz, managing director of Peri 3D Construction, said: "Based on parametric design, the special wall design used in the building documents the immense design freedom, that the Cobod BOD2 3D printer enables. We are very proud to be able to realize our largest building to date with this project."
Henrik Lund-Nielsen, founder & GM of Cobod, added: "In this unique project Peri is emphasizing two of the key benefits of 3D construction printing; speed of execution and design freedom."
The facility will be 3D printed using around 450 tons of printing concrete from Heidelberg Materials. The concrete is 100 percent recyclable and contains a binder that can reportedly achieve a 55 percent CO2 reduction rate compared to pure Portland cement.
"We are pleased to be part of this innovative project and to further develop 3D concrete printing as a particularly resource-efficient construction method with our partners," said Nicola Kimm, Heidelberg Materials' chief sustainability officer. "Together we show that sustainability and digitalisation go hand in hand. At Heidelberg Materials, innovative and sustainable products like i.tech 3D and the development of digital business models are essential elements of our sustainability strategy."
A painting robot from DAW Deutsche Amphibolin-Werke by Robert Murjahn will be used for painting the interior – known for the brands Caparol and Alpina Weiß.
Though officially launched in 2007 after merging with MEG Kommunikationssysteme GmbH, Heidelberg iT can trace its roots back to the launch of its first data center in cooperation with MVV Manet GmbH in 2001. A second facility was launched in 2016. The new site will reportedly be the company's fourth commercial data center in Heidelberg.
In the US, EdgeCloudLink (ECL) plans to offer hydrogen-powered off-grid modular data centers, built in 1MW units, using 3D printing construction.