A four month public debate in France will consider a 1GW solar project from Engie and Neoen, which also includes batteries, green hydrogen, and a data center
The €1 billion (US$1.18bn) Horizeo project, proposed for Saucats in Gironde, in the Nouvell-Aquitaine region, will have an energy storage system, and a 10MW electrolyzer to produce green hydrogen, as well as a data center. The solar park alone will cost $770 million (€650m), and is expected to come onstream in 2024, if construction starts in 2022. The project will take up 1,000 hectares (2,471 acres).
The public discussion begins on 9 September and will continue till 9 January 2022.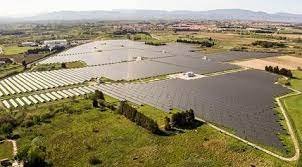 Data center on the Horizeo
With solar power dependent on a fluctuating energy source, the installation will concentrate on means to use, convert or store energy locally. Around 20 percent of the project's cost will go to building a data center that will get part of its energy from the solar farm. The project also plans to use "agrivoltaic" installations in which the sun's energy is shared by shade-tolerant crops grown under the solar panels or in greenhouses below them.
The 1GW farm will produce enough power for the annual consumption of more than 600,000 people, and help France meet its energy transition objectives, according to Engie and Neoen's January announcement. The Nouvelle-Aquitaine region has 2GW of solar power today, and hopes to reach 8.5GW by 2030.
"The [Horizeo] project alone would represent more than 15 percent of this regional ambition," said the January announcement. "These particularly ambitious objectives constitute real challenges that Engie and Neoen are now ready to take up alongside local players."
The project will not need public support, the companies claim, demonstrating that "photovoltaic solar energy is today both mature, reliable and sufficiently competitive to ensure the direct supply of electricity to industrialists." The project's data center will be the first in France to be located at a solar park.
The area is currently used for forestry, producing maritime pines. To proceed, the project needs to get a clearing authorization, and the companies promise to provide compensatory forests elsewhere that are greater than the area cleared. "These elements will be discussed with the forestry industry and the general public."
"The Horizeo project is unprecedented and innovative in terms of its renewable energy production capacity and it goes much further by associating, on a single site, technologies of the future," said Gwenaëlle Avice-Huet, deputy CEO of Engie in charge of renewables.
"It is also an ambitious project in its economic model, in which the energy produced will be valued through contracts for the sale of electricity by mutual agreement with companies, outside the tender procedures of the State and associated grants. This is a real break with the current economic model of renewable energies in France. We are also committed to carrying out an exemplary project in terms of environmental and societal approach. The upcoming public debate will allow us, in particular, to enrich and feed all the components of the project. "
Paul-François Croisille, Deputy CEO of Neoen, said: "Horizeo is a large-scale project which intends to demonstrate that it is possible to accelerate the energy transition in France by directly offering competitive renewable energy to companies. This project is designed as a true low-carbon energy platform combining mature solar energy with ambitious technological innovations, such as electricity storage batteries. Our priority is to integrate this project into the realities of the territory from an ecological, societal and economic point of view. In keeping with the unprecedented scale of the project, the public debate will make it possible to involve all local actors and the general public as widely as possible in order to develop all its potential for the benefit of the territory. "