The 20,000 square foot Shield House site will offer 1.5 megawatts of power to its customers when it opens in Q1 2017.
The building in Barnwood will contain three data halls, with the possibility for each to be subdivided, and the site will be guarded by 24-hour security.
Clients will include private and public organisations in the media, education and healthcare industries, situated in locations such as Bristol, Birmingham and Swindon.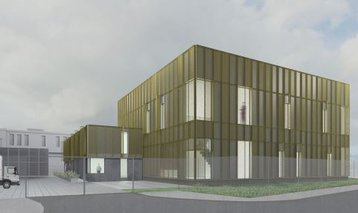 Tech cluster
The project involves a redesign and extension of an existing data center constructed in the 1980s.
The development of technology clusters in the region was encouraged in the Tech Nation 2016 document, published by the UK government-funded Tech City organisation.
The Shield House development sits between the Bristol & Bath and Great Malvern cyber technology clusters.
Indectron, a provider of colocation data centers, has worked with facility design and management company Keysource to build the site, with funding provided by HSBC Corporate Banking.
Indectron's managing director Andrew Bence said: "After a thorough site selection, design and planning process, we have started construction of one of the most advanced data centers in the UK.
"The design solution proposed by Keysource will allow us to deliver cost-efficient, accredited and environmentally friendly data center solutions, offering significant total cost of ownership reductions to our clients in power, cooling, connectivity and services charges."