Fifteenfortyseven Critical Systems Realty (1547) is planning a large data center campus outside Philadelphia, Pennsylvania.
The company has partnered with real estate development firm Green Fig Land Company (GFLC) to acquire a parcel of more than 100 acres of land to develop a data center campus designed with initial capacity for up to 2 million square feet of space and 150 MW of available utility power, with additional 140 MW to be available by energy provider PECO during build out by 2024.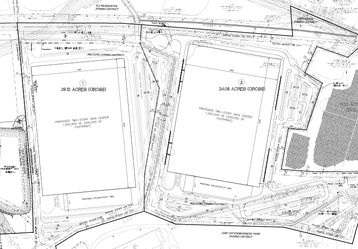 The site is located in East Whiteland Township, Malvern, Chester County, around 20 miles to the northwest of Philadelphia. Already zoned for data center and microwave towers, GFLC has obtained zoning approval through East Whiteland Townships Board of Supervisors to construct two data centers of approximately 1,000,000 square feet each. Adjacent property is available for development of up to 5,000,000 square feet of data center buildings.
"The demand for hyperscale and enterprise data center space and access to power continues to grow at an exponential rate. 1547 is focused on identifying and developing key markets with proximity to the network to serve as Edge deployments in highly populated geographies," said J. Todd Raymond, CEO of 1547.
"We have seen the success of partnering with local and state governments throughout our portfolio, including our partnership with Rockland County, where our flagship data center in Orangeburg, New York is located, which has attracted Fortune 100 companies and large hyperscalers, since space and power are immediately available along with the proximity of connectivity to facilities in Manhattan. This saves our customers millions of dollars in tax incentives and creates long-term partnerships that scale as their data center needs grow."
The land is on the corner of Valley Creek Blvd and Swedesford Road, north of the Planebrook substation. It was previously the Foote Mineral Co. Superfund Site; from the 1940s to 1990s, the Foote Company manufactured lithium metal and lithium chemicals there. It seems there is no anchor tenant in place for the site.
Charles Lyddane, managing partner of GFLC, added: "We at Green Fig have spent three years working with the legislature to enact a bill to eliminate the sales tax on data center equipment in Pennsylvania. With access to Tier 1 carriers like Arelion, Lumen, and Windstream, PA is the ideal location for an additional data center cluster sitting between markets like NJ/NY and Ashburn."
"With 150 MW of power and 140 more MW being added during the build out, abundant free cooling, no tornadoes or floods, we have an unbeatable site."
GFLC said it is also working on a dedicated, sustainable power generating facility on site, which would sell power to the project behind the meter.
GreenFig has been planning a data center on the site since at least 2019. The company was previously looking to install 12 modular "data pods" on 35,865 square feet of the site that had previously been approved for thousands of solar panels in 2010.
1547 has data centers in Orangeburg, New York; Portland, Oregon; Kapolei, Hawaii; Cheyenne, Wyoming; Milwaukee, Wisconsin; and two in Chicago, Illinois.
While it often partners with investors such as Valterra Partners, Harrison Street, and CIM Group to acquire developed facilities, 1547 does have development chops.
The company converted a former warehouse in Chicago into a data center in 2015, partnered with Green House Data to build the facility in Cheyenne in 2015, and partnered with CIM to build a data center in Bayview, San Francisco.
More in Construction & Site Selection