The Asia Pacific data center market is experiencing a period of extreme growth. And when we say extreme, we mean extreme.
As of 2022, Eastern Asia had the highest number of internet users at 1.2 billion. For comparison, the Americas had only 807 million. So, what does this mean for the data center industry? Put simply, things are getting a little intense.
"What we see now in the market is that the digital infrastructure is not enough compared to the data usage, and the data monitoring that you will need to have in the coming year," explains Wandrille Doucerain, head of Data Center Solutions in the South East Asia region for Engie. "It is a rapidly growing population that uses the Edge and it is booming. 5G is coming, but there are not enough data centers."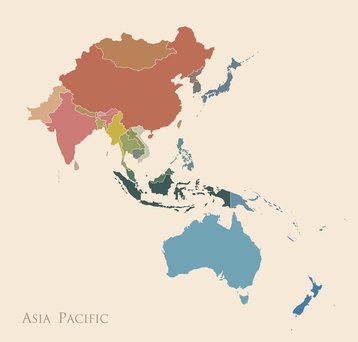 In practice, according to Doucerain, this is looking like weekly announcements with colocation and hyperscale data centers rapidly growing their capacity. In Malaysia alone, more than 800 megawatts of IT load have been announced in projects over the last year.
Phil Reid, head of Energy Transition at RED Engineering reiterated this: "[Demand] will continue with virtual reality, augmented reality, AI, and the Internet of Things. There are all kinds of reasons why this market will grow, and we can't do anything about that.
"All we can do is try and address those requirements, and anticipate exactly where we're going to go in terms of the land that's available, the infrastructure that supports them, all while trying to get to zero carbon at the same time.
"These are huge challenges for us. It's a huge challenge for real estate developers, for engineers, for developers, for investors. But we have to deal with this, we have to accept the fact that it's going to grow, that this is the world we live in nowadays."
So, with this in mind, how are we going to ensure that growth is sustainable? According to Doucerain, sustainable growth of the industry is going to rely on three methods.
"The first way to do it is by design. That's basically what the industry is about and has been about for the past 10 to 15 years: how do you improve PUE? And I have to say, the industry has been quite an extraordinary proponent of energy efficiency. PUEs 10 years ago were around two. Now, they're often around 1.3, 1.2.
"But the design is not enough. It's also about consuming energy, and the industry has been tackling this very well. What we saw at DCW was that 90 percent of the booths you would go to were talking about using equipment to be more efficient."
But funding this is also important, and for that, we often turn to green PPAs – or power purchase agreements. Last year, Engie provided 2.1 gigawatts of green power, and 70 percent of that went to data centers.
"Of course, providing green power to your data center is not going to make it fully carbon-neutral, or net zero which is the aim not only in terms of CO2 emissions but also in terms of circularity considerations around the water use and how you build your data center," continues Doucerain.
"The third piece is the vision. How do you make them more sustainable by integration? A data center is not an isolated asset anymore, it has to be an open asset in discussion or in a relationship with the grid, the neighboring industry."
With all of this in consideration, the APAC data center industry can continue its awe-inspiring growth, while ensuring that growth is sustainable for our planet.