Climate control company Munters is moving its Virginia manufacturing operation to a new factory, to the Botetourt Center industrial park at Greenfield near Roanoke, to meet increased demand from the data center sector.
The 200 staff at the Swedish company's current factory in Buena Vista, Virginia will all be asked to move to the new 365,000 sq ft (34,000 sq m) factory, which will also handle research and development into the expanding area of data center cooling. The facility is expected to be open by the end of July 2022.
Check out Munter's Tech Showcase from DCD>Towards Net Zero, available on-demand.
Greenfield in Greenfield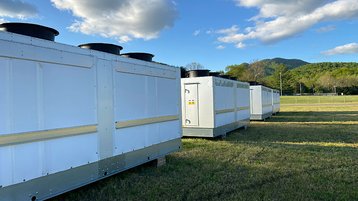 "Moving to Greenfield offers us the opportunity to develop a build-to-suit facility, designed specifically for our needs, allowing us to work in a safer and more efficient environment," Michael Gantert, president, data centers, with Munters Corp., told Commercial Property Executive. "This location will eliminate our current logistics and utility challenges, while also giving us access to a larger population center to grow our workforce. This location also puts us in a good position to retain our current employee base."
Munters chose to stay in Virginia, after Botetourt County provided $150,000 of training credits at the Virginia University or Community College System, as well as a $300,000 credit toward the purchase of the site. "Remaining in Virginia allows us to continue caring for our workers while opening doors for new team members to join the Munters family," said Gantert in the Munters release.
Munters' data center business in North America is growing, and the company is understsood to be contemplating further expansion in Europe too.
Historical note
In the 18th and 19th centuries, Greenfield was the site of a vastly different work setting. It was a large forced-labor plantation established by Colonel William Preston (1729-1783). The kitchen and slave quarters of the plantation house have been carefully preserved by the Virginia Department of Historic Resources, as an important historic record.