In any major data center project, the sheer level of detail required, combined with the uncertainty over when each stage will be completed, can be mind numbing: the best of plans can rapidly become undone on first contact with reality.
But even after the data center is built, infrastructure has been specified and clients are itching to move in, it can be equally frustrating when cabinets, racks, PDUs and more have been ordered and lead times are frustratingly long, and even after delivery, completion can still be a long way away.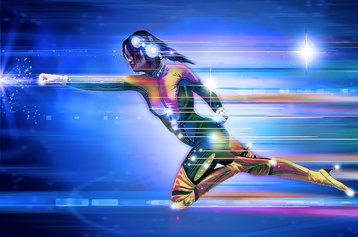 This can be most frustrating of all for colocation customers looking to move-in to a new facility, from big-name providers with eye-watering numbers of cabinets and racks to move in, all the way down to enterprise customers with more modest requirements, looking to migrate from on-premise to their local colocation facility.
"There's a shift to a hybrid IT model, with a mix of traditional on-premise, applications being deployed in the cloud, as well as colocation," says Jeff Paliga, director of Global Data Center Solution Development at Panduit.
Going off-premise, for enterprises and other organizations, typically means working with colocation data center providers, whose key interest is in getting their facilities built, and paying tenants in. Those tenants, meanwhile, want to spend as little time as possible setting up their cabinets and racks, and to execute the migration of their applications as fast as possible.
"Speed of deployment means getting environments into production. From a provider's perspective, they want to get their tenants into the building and into a billable position," says Paliga. "When the tenant comes in, they're paying those leases and want their applications up and running."
Whereas in the past operators and their clients were willing to take their time to get the kit-out just right, today the pressure is on from all sides to complete the work as speedily as possible, says Paliga, adding that greater modularization means that faster solutions are now possible.
Paliga and his team at Panduit, a major supplier of cabinets, racks, power supplies and more, "spent a lot of time with providers and end users to figure out ways that we could bundle or pre-configure, or provide converged infrastructure based on what the environments would look like."
As a result, Panduit was able to devise a slew of offerings that should help expedite the kit-out of data center halls for clients – both major data center operators looking to fill hall after hall, as well as more modest enterprises that might just be looking at a handful of cabinets in a newly constructed colocation data center.
However, Panduit needs to be engaged as early as possible in order to ensure that the hardware is lined-up, ready to go when it needs to be. "It can take a couple of different paths, depending on what products sets are being specified, and by whom. If it's the provider, they could provide everything, but in most cases they're only providing the fiber conveyance, the busways over the top of the cabinets and some level of power," says Paliga.
So the first step is to find out exactly what the provider is providing, at the earliest available opportunity, so that the tenant can line up the appropriate equipment with Panduit.
"We need to get really close to the end user, find out what applications they intend to run, what type of IT gear – switches, routers, storage and other equipment they're putting in – and from that we can build configurations that they can specify with a limited number of SKUs. And we can do this because Panduit is very vertically integrated, so we can bring all those various elements the customer requires together," says Paliga.
It also has relationships with key providers, such as Cisco, enabling it to procure directly from them and integrate their kit in Panduit's cabinets, fully configured and ready to go, prior to delivery. And, should there be any design tweaks along the way, Panduit can respond accordingly.
"Our relationship with the likes of Cisco, as well, gives us a lot of downfield visibility: what the cooling requirements will be, the power requirements and the density that can be supported. So when we come together, we can bring a best-in-class practices offering," says Paliga. In other words, Panduit doesn't just supply the hardware, it can advise on the best combinations of hardware for the end user according to their individual requirements.
As a result, what can take between three months and a year – specifying disparate parts, waiting on lead times and delivery, and integrating them into the cabinet – can be been reduced to as little as ten days.
Smile and dial
However, that doesn't mean that prospective clients should wait until that late in the process before picking up the phone – quite the opposite.
"There's a lot of different things that come into consideration when we determine the components that we're going to be pre-configuring into a solution. It starts with an initial site assessment: what is the actual floor plan going to look like? How will they be routing power through the data center? What kind of thermal considerations need to be addressed?" asks Matthew Paciorek, senior manager of group products, Converged Infrastructure, at Panduit.
"Then, what are the end-user requirements? Is it about space maximisation and optimisation? Is it about intelligence, for example, better monitoring day-to-day operations in the data center? And once those things are clarified, we can make some general recommendations," he adds.
In some cases, a tenant may be well-established in the colocation facility, but anticipates rising power densities, which will have knock-on effects requiring new server cabinets and new combinations of PDUs, access control, monitoring, cable management and so on.
Hence, rather than thumbing through multiple catalogs and websites, trying to match items that will all play nice together, while achieving the objectives, Panduit can instead recommend tried-and-trusted combinations for particular client requirements. Moreover, it arrives pre-fitted and pre-tested in the cabinet, which means radically less time and trouble installing the kit, and much less packaging to dispose of.
"Now, it's a turnkey solution where everything is pre-tested," says Paciorek. "There's other intangible benefits, too: when you're talking about volumes of 2,000 to 5,000 cabinets globally deployed you want this to be a repeatable footprint and you want to be able to make this as turnkey as possible."
After all, when you've 5,000 cabinets, and everything that goes in them to fit, you can scarcely move fast, let alone make things happen.
Well, not for some time.
More...
It's time to help colocation data centers provide an open book approach to sustainability and increased efficiency

Constraints on supply chains make it hard to get the right products in the right place for customers, says Marc Naese

George Rockett, CEO sits down with Marc Naese, SVP, Network Infrastructure, Panduit to discuss their Cloud operations.