What links Microsoft, Google, Facebook and Amazon Web Services? Tech Giants? Sure. Used in nearly every part of our day? Yes. Their influence is set to continue to grow over the coming years? Of course.
There are plenty of answers one can give, but there's something else that links them, and many other digital companies both large and small: Sweden.
Why? Because the country hosts major data center operations for these hyperscalers, and their establishments in this northern European nation is due in a large part to the work of Node Pole, the leading data center real estate advisor in the Nordics.
To learn more about what makes Sweden such an attractive option, in a very competitive market, we sat down (virtually of course) with Node Pole CEO Christoffer Svanberg to tell us more about their connection to the industry, overcoming challenges, their unique approach to partnerships, the future of sustainability and more.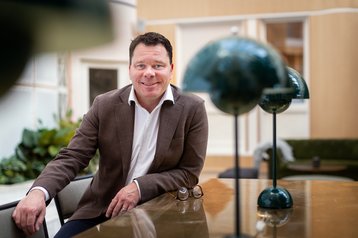 I open up by asking, quite simply, why Sweden?
"Sweden is a very advanced industrial nation, but also one that is able to deliver interesting pieces of land as well as supply sustainable energy at a large scale. I think it all really started when Facebook established itself here around 10 years ago, and their growth since then. From that other data centers began considering Sweden as a great option and quickly followed on.
"And yes, Sweden has a lot of already strong attributes, but any large investment and construction always has its complexities and challenges, and for us at Node Pole our role is to ensure the process runs smoothly, particularly for those companies who are new to our country. We have a keen understanding of what is required, from energy and utilities through to dealing with site owners and navigating bureaucracy.
"The Node Pole team also has strong connections with the construction industry here, who are used to working on large infrastructure projects and delivering them both on time and on budget. I like to think of us a bit like the spider in the web, and by being so well connected, we are able to help companies save time, save money and reduce risk," Svanberg continues.
Sweden's leading position was underlined in March of this year, when global consultancy Arcadis named Sweden as the best place in Europe for data center investments and the fourth-best in the world. They put a particular focus on download speeds and energy security, as well as the support of how the government works hard to make investments attractive.
One company among many that has worked closely with Node Pole is Microsoft, who are building data centers in Gävle and Sandviken, north of Stockholm, that are set to be among the most sustainably designed and operated to date.
Speaking about the partnership, Brian Marrs, senior director, cloud operations & innovation at Microsoft told us: "Our collaboration with Node Pole has benefited from their expertise in real estate, power infrastructure, renewable energy and planning policy to navigate site selection in Sweden."
An aspect that comes through clearly in my discussion with Christoffer is the importance of confidence and experience, both from his team in what they can deliver and from those clients they work with.
With the setting up of a data center being a complex business, in a world that is particularly full of challenges at the moment, I ask Christoffer to tell us some more about some of the uncertainties that they help clients overcome.
"If you don't know the process, it can be hard to identify where problems might arise. Let me give you an example, if you were looking to build a data center in northern China, a place you'd never been to before, you'd have a long list of uncertainties and questions and would need to commit your trust to local partners.
"I like to think that we can take the mystery out of the process here in Sweden and give clients that confidence they need to commit. And certainly so far this has been working very well for us and them."
As our time comes to an end, our discussion moves to the topic of sustainability, one that is permeating all aspects of our industry at the moment, and something for which Scandinavia has a particularly strong reputation.
"By developing an establishment in Sweden you are securing your long term competitiveness in terms of sustainability. Here in the Nordics, we already have a strong axis of sustainable and green energy, a government that has long supported developments in this sector and of course we operate within the wider European Union framework that has made its commitment very clear."
"You have to consider what the future holds, carbon taxes, tougher regulations, policy changes, that kind of thing. So an investment in Sweden is not only a profitable one, given the cost of our green energy but also from a longer term perspective you are future-proofing your business by ensuring its already got major sustainable credentials" concludes Svanberg.
Sweden's reputation for stability, sustainability and technological excellence makes it a compelling location for data centers, and Node Pole is set to play a major role in ensuring that global companies large and small anchor our digital future in this progressive and inviting nation.
Further reading
New data center projects and Northvolt battery factory on the horizon

"Green Bitcoin" firm now has Hydro66's renewable-powered facility in Boden, Sweden

This new report looks at how IT managers, operators, and those who purchase data center equipment consider actions that lessen their impact on the environment.