---
Hello and welcome to day one DCD>Keeping IT Cool Live Blog. My name is Shaun, Content Marketing Specialist here at DCD and I'll be covering two days worth of content from the industry's largest virtual events.
I'll be posting content, links, and listening in on discussions happening in the social sphere as the day goes on. Make sure you follow us on Twitter @dcdnews and use the hashtag #DCDCooling to join in on the discussion. Remember, if you're a registered delegate you can access our dedicated networking platform to connect with other delegates and speakers - it's 100% free.
---
---
4:00PM EDT // 9:00PM BST
That wraps up Day One of DCD>Keeping IT Cool Virtual. Remember you can access all of today's presentations for free, on-demand. You can also connect with all the delegates and speakers from the event with our dedicated networking app.
Make sure you tune in tomorrow for another day of the industry's thought leaders sharing some fantastic information.
---
3:57PM EDT // 8:57PM BST
"Things are changing quickly, and we need to work with one another."
Poignant points from Don on the importance of collaboration as head into a new landscape of technology.
---
3:36PM EDT // 8:36PM BST
If you're looking to networking with any of your 1,200 fellow delegates, head over the DCD>Networking Platform where our smartfilters feature will help easily match you to delegates with similar challenges to you. To get started, simply log in with your email address.
---
3:30PM EDT // 8:30PM BST
"The reason [edge] is so hard to define is because there are so many use cases."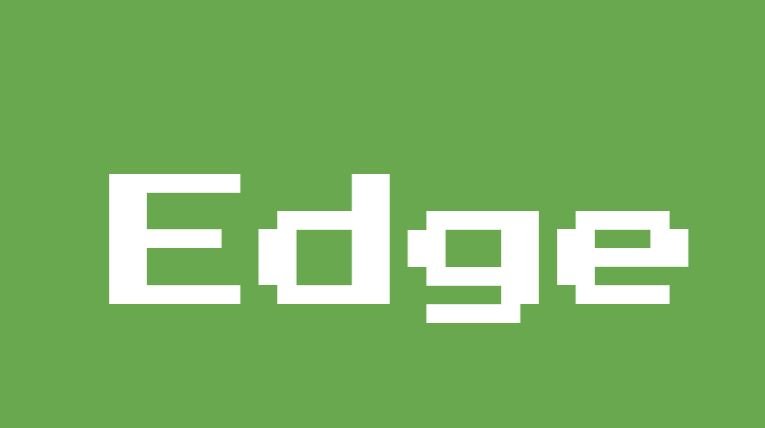 ---
2:47PM EDT // 7:47PM BST
Thank you Paul for joining us in our penultimate panel. Remember to use the resources below to access all the free content on offer from DCD>Keeping IT Cool Virtual.

Our last and final session for the day is a fireside chat between Don Beaty and George Rockett.
---
2:33PM EDT // 7:33PM BST
A great overview and suggestions from the team at Kelvion.
---
2:17PM EDT // 7:17PM BST
"It does help you with the overall design and ensuring you are providing accurate calculations."
Hot/Cold designs are a major trend right now according to Paul.
---
1:47PM EDT // 6:47PM BST
Thank you for joining us David, it was a great look at DCLC. You can re-watch and access his presentation on-demand, for free. Also, following this morning's session, product experts and speakers from Stulz, ABB, Novenco, Excool and more are on the DCD>Networking Platform to answer any questions you may have. Log into the app to get in touch.

Our penultimate session today will examine the impact of increasing densities on the data center, providing an overview of traditional cooling technologies and the types of free cooling and considerations around this.
Increasing server densities and the impact on heat rejection and free cooling
Paul Hagen, Mission Critical Business Development Manager, Kelvion Inc.
---
1:33PM EDT // 6:33PM BST
"We can fully populate an edge center in a modular and quick manner."
DCLC technology has a strengths and benefits for a variety of applications.
---
1:14PM EDT // 6:14PM BST
Great overview on the benefits of replacing legacy cooling.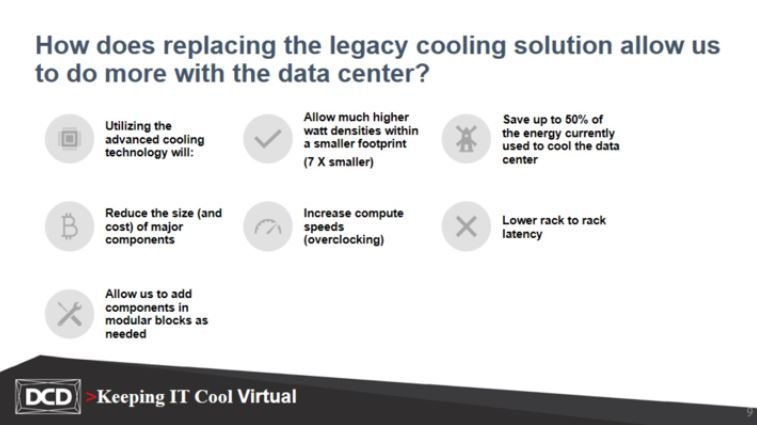 ---
1:00PM EDT // 6:00PM BST
If you're enjoying our summer series of virtual conferences, be sure to check out our fall 2020 calendar! All of our hallmark conferences, including DCD>New York, DCD>San Francisco, and DCD>London have gone virtual this year and are accessible to a global audience. Even better, every conference is entirely free-to-join.

Up next is a look at direct chip-level cooling. Make sure you are registered for the session so you an tune in live.
---

12:57PM EDT // 5:57PM BST
Thank you for much to Casey for that overview. Make sure you get in touch with the team from STULZ for more information.
---

12:40PM EDT // 5:40PM BST
Another great look at some really fantastic technology. Make sure you get in touch with Maria and the team at ABB to find out more.
---

12:20PM EDT // 5:20PM BST
Thank you very much to Hans for that overview of the Modular Fan Array systems. Make sure you connect Hans and the team using the dedicated networking app.
---
11:45AM EDT // 4:45PM BST
Fantastic overview from Dustin - thank you very much to Dustin. Make sure you access the presentation on-demand to make the most of the resources on offer.

Up next is our first Technology Showcase for DCD>Kepping IT Cool Virtual.
---
11:25AM EDT // 4:25PM BST
"Every workload stresses systems differently."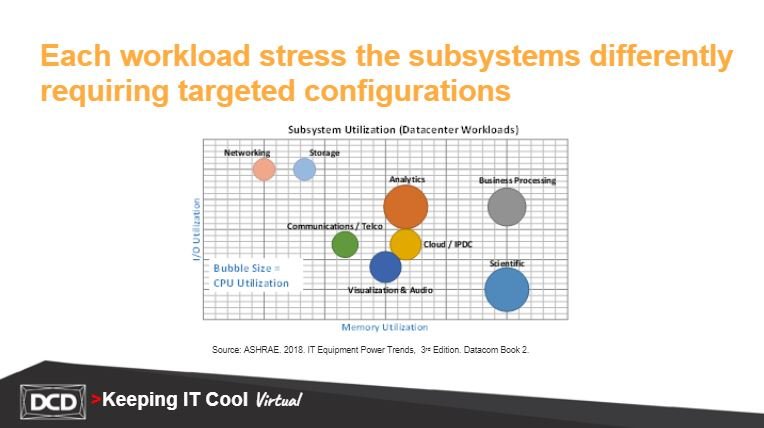 ---
11:21AM EDT // 4:21PM BST
"These trends were really meant to be a kind of a forecasting tool or a planning tool and not necessarily representative of any one specific product because obviously if your configuration is a little different, you're not going to fall right on this line."
Important note from Dustin on the role of forecasting and planning.
---
10:55AM EDT // 3:55PM BST
Another thank you to Frank for that in-depth look at what ABB has on offer. I highly recommend utilising the free resources by accessing the presentation on-demand.
Up next we're talking ASHRAE - and will examine a new workload-specific methodology and the future equipment forecast.
Keynote: ASHRAE workload-defined power trends and implications for cooling
Dustin Demetriou, Senior Engineer - Advanced Thermal Energy Efficiency Lab, IBM & Chair of ASHRAE Technical Committee 9.9
---
10:31AM EDT // 3:31PM BST
On our DCD>Networking Platform, end-user delegates can message any of our partners or speakers from leading companies including ABB, Excool, Stulz, Shell, Iceotope, Opticool, and more. Log on to start scheduling 1-2-1 meetings and further your understanding of cooling technology & best practices.
---
10:24AM EDT // 3:24PM BST
Frank is sharing some really interesting, and technical information on ultra-low harmonic drives.
Make sure you're registered for the session - live, or on-demand so you can access all of ABB's free resources.
---
9:52AM EDT // 2:52PM BST
Thank you Jon for joining us and demonstrating what Excool has on offer. Remember you can access Jon's presentation and connect with him directly:

Up next, we're all about speed:
Specifying variable speed solutions for data center cooling
Frank Taaning Grundholm, Vice President, Global HVACR Sales, ABB
---
9:48AM EDT // 2:48PM BST
To learn more from leaders at Excool, tune into their session during DCD>New York "Is a zero-water approach still optimal for the removal of heat?" on 1 September. Registration is entirely free.
Is a zero-water approach still optimal for the removal of heat?
---
9:17AM EDT // 2:17PM BST
Modes of operation for the Excool system shared by Jon.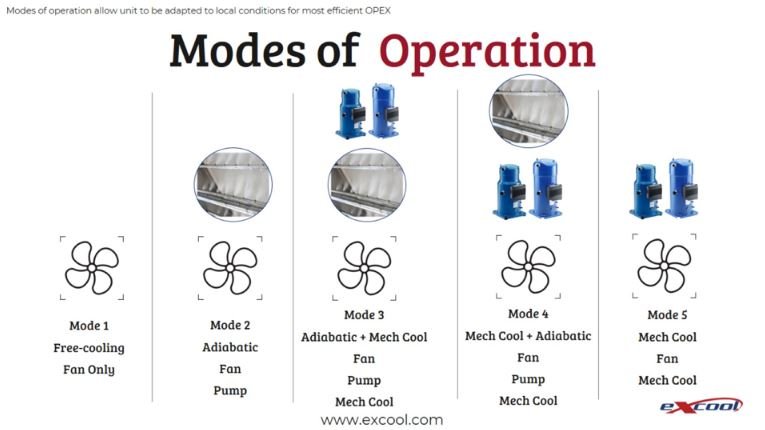 ---
9:00AM EDT // 2:00PM BST
Thank you very much to Sarah, Tim and Luke on a great panel. There was a lot of interesting information in there, so make sure you access the presentation on-demand, and connect with the panel members:

Up next, as Dan mentioned, is a presentation talking about indirect adiabatic cooling - make sure you're registered and ready to go.
Indirect adiabatic cooling - Journeying toward a PUE of 1.2 or under?
Jon Pettitt, Chief Commercial Officer, Excool ltd
---

"The utilisation of the facilities is increasing, and with, with the more with hyperscale users you're, you're finding that sometimes up to 80 85% capacity utilisation with any given facility."
Interesting retrospective from Luke on capacity utilisation.
---

8:15AM EDT // 1:15PM BST
"If you're looking at technology in the building that isn't going to be, you know, compatible with it or or triggers themselves, their replacement to meet that requirement."
Fantastic insight from Sarah on tech upgrades.
---
7:53AM EDT // 12:53PM BST
What a fantastic start to the day with Robert's presentation. To those who had trouble accessing Robert's slides, you can access his presentation on-demand below:

Up next, we have the first panel of the day which is all about cooling at the frontline.
---
7:43AM EDT // 12:43PM BST
To get in on the discussion during DCD>Keeping IT Cool, end-user delegates can head over to our DCD>Networking Platform, and join in on group discussion with their peers. All you need to log in is your email address, and you can start connecting immediately.
---
7:23AM EDT // 12:23PM BST
"The need for simplification is paramount here."
Great points from Robert on the reliance on specific solutions that can be 'overly complex'.
---

5:34AM EDT // 10:34AM BST
In just over an hour we're kicking off with the first panel session of the day! Make sure you're registered for all the sessions we have on offer over the next two days.
---
DCD>Keeping IT Cool Virtual