With only days remaining to the big announcement, excitement is gathering over the eventual winners of DCD's annual Awards.
This year DCD announced a shortlist across fifteen categories, sifted from nearly two hundred entries by our team of independent judges. The winners will be revealed at a gala event in London on December 6.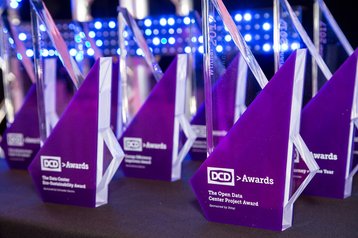 An international field
The contenders in these global awards are truly international, with potential winners from Europe, the US, APAC, Latin America and Africa. The categories span service providers, large data centers and enterprises, while the awards also honor individuals alongside the companies they represent.
From Latin America, Sabesp from Brazil made it onto two shortlists, while Banco de Brasil's cooling strategy earned recognition.
Meanwhile, Chindata, China Unicom and China Life Insurance are flying the flag for China, along with the Shanghai Government, whose cloud migration project gained kudos.
From APAC, Australia's NextDC is jostling alongside Airtrunk of Singapore and Australia, each contending for two awards, while STT GDC of Singapore has found a way to use free cooling in a tropical climate. Also from the world's tropical regions, Nigeria's Rack Centre is representing Africa in our shortlists.
From India, Uttar Pradesh Power Corporation's hybrid cloud for rural electricity won recognition, and so did the design team Nxtra Data's tier-IV facility, along with NetMagic's energy efficiency measures.
This could be a break-out year for Canada, with eStruxture hoping for an eco-sustainability award, Morrison Hershfield joining Digital Realty on the design shortlist, and Root Data Center's operations team in the running for an award.
Europe is well represented by Spain's Repsol, the UK's Kao Park and several others including Sweden's Digiplex, Norway's Green Mountain and Iceland's Advania.
There is also a much-anticipated award for the planet's most extreme data center, to be decided by a public vote.
All about the people...
The DCD Awards are all about the people of the data center industry, and this is most clear in our recognition of design teams, as well as operations teams for colocation and cloud, and for enterprise. We also celebrate individuals: the center manager of the year and the young mission critical engineer of the year, as well as the business leader of the year and an award for one individual's outstanding contribution to the industry.
This year for data center manager of the year, Sunday Opadjio of Rack Centre, Millicom's Yashnath Issur and Ole ten Volland of Green Mountain are all worthy candidates, but only one will win the prize.
With the shortlist published, the judges' decisions are being finalized and the entertainment is being prepared. All that remains is to come to the event, where the winners will be revealed.