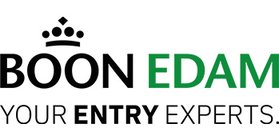 Royal Boon Edam is a 150-year-old third generation Dutch family business. Boon Edam is leading the field when it comes to supplying top quality revolving doors, high security doors and speed gates to customers across the world.
We offer several solutions for preventing unauthorized access. Circlelock (click link for video) is our flagship solution which prevents tailgating and piggbacking. Our patented Stereovision technology ensures that only one authorized person gains access to the secure area at a time. High security areas like data centres, currency chests, R & D labs can also implement two factor authorization via biometrics for an additional layer of security. This ensures that only one person, the right person, gains access to the secure area. Circlelock Combi (click link for video) is a revolutionary solution which is ideal for retrofitting to existing swing doors. And by using a fire rated swing door, critical infrastructure can be protected in case of an eventuality. Our solutions meet CE as well as UL certifications.
Our India sojourn started in the year 2000. In the last 20 years, we are proud partners of some of the top Hospitality, IT, Realty, Finance, Insurance, Automobile, Oil & Gas, and many other sectors. With a pan India sales and service network, we are always available where our customers need us. Our state-of-the-art factory in Mumbai manufactures a wide range of waist height and full height optical turnstiles.
Do visit our website www.boonedam.com for more information, drop an email to [email protected] or call us on 022 70454 55145.