Singapore
Watch sessions on-demand
The virtual conference for the ASEAN data center industry
Fireside Chat: Coping with disruption - the impact of the pandemic on the Southeast Asia data center industry
This session took place on September 15, 2020
Please complete the following form to access the full presentation.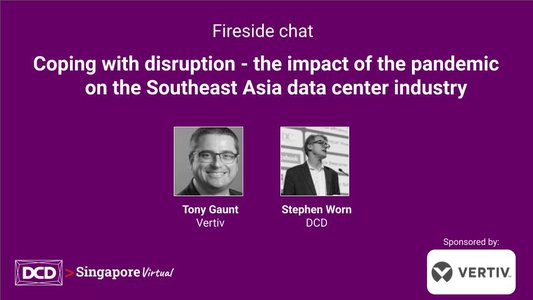 Fireside Chat: Coping with disruption - the impact of the pandemic on the Southeast Asia data center industry
The evolving technology landscape – including the potential of 5G networks – has caused many data center operators to shift their strategies towards a more converged approach integrating colocation and the edge. With a global pandemic at hand disrupting and impacting the way we consume data, how prepared are data center operators in managing this shift in both priorities and customer demand?
This conversation with Tony Gaunt of Vertiv explores trends impacting the data center industry in Southeast Asia and how operators respond to challenges and opportunities they face amidst the pandemic. It attempts to bring to light various perspectives affecting the future of the data center industry in a post-pandemic world.
Brought to You by