New York
The Industry's Biggest Virtual Conference
Be a part of the industry's largest virtual data center conference. Sign up for free today!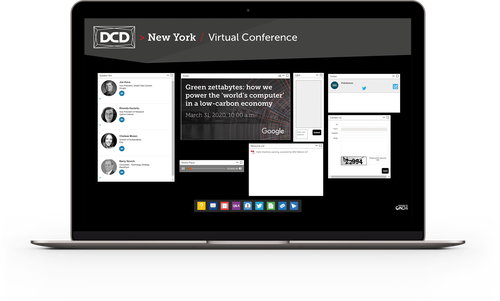 We've moved our live DCD>New York event to September 1-2, 2020. However, we don't want you to miss out on our world-leading conference program, so we'll be hosting 24 free-to-view webinars between March 31 - April 2 to enable you to access our expert thought-leadership and build your industry knowledge wherever you are in the world.
Hosted on our fully interactive platform you'll still be able to participate in live Q&A, audience polls and gain insights from our industry experts that include:
Joe Kava, Vice President, Global Data Centers, Google
Vinay Kanitkar, CTO - Global Carrier Strategy, Akamai Technologies
Russell Senesac, Director - Data Center & Edge Strategy Development, Schneider Electric
Jason Carolan, Chief Innovation Officer, Flexential
Rhonda Ascierto, Vice President of Research, Uptime Institute
To secure your place at the industry's largest virtual data center conference use our session registration form and we'll provide you with links and calendar reminders for all the keynotes and panels so you don't miss a thing.
Watch sessions on-demand
Virtual conference in numbers
Unlimited

access to a global audience of data center professionals

1080

minutes of cutting-edge thought leadership

Interactive

capabilities on our state-of-the-art webinar platform

87%

scored last year's conference program 8/10 or higher
Key Themes
Energy Smart Infrastructure

From future battery technology to microgrids and the latest cooling tech, this content theme provides data center operators with expert opinion and guidance on how to design and operate highly-efficient and highly-reliable mission critical environments that support the next generation of high density IT.

Modernization & Lifecycle Management

Retrofitting existing data centers to manage modern workloads and maximise capex might be less glamorous than greenfield data center design and build, but for many operators these are priority projects. This theme focuses on best practice for extending facility lifecycle and optimizing operational efficiency.

Planning for Hybrid IT

Effectively managing capacity and operations between on-premise, colocation and the cloud is an increasingly complex task that requires new types of risk assessment and skill sets. This content theme explores workload placement and capacity management to ensure cost efficiency and reliability.

5G, Edge & Interconnect

The data center landscape is evolving fast with 5G and IoT technologies set to ignite exponential data growth at the core and create a "new" edge ecosystem. This content theme looks at how this new infrastructure layer is going to be built, deployed and connected.

Site Selection & Readiness

Access to capital, site selection, energy procurement, and connectivity are just some of the factors that developers and operators must consider when planning a new facility. This new content theme focuses on the work that must be done in advance of any new data center investment.
Watch sessions on-demand
Testimonials
This is by far one of the best events I have attended as an end-user.

Eric Fussenegger, Wells Fargo Bank, N.A.

Action packed event filled with industry peers and leaders. We will leverage [what we learned] in strategic business decisions during this new-age, bandwidth-intensive digital era.

Chad Rodriguez, Consolidated Communications

The speakers at DCD>New York were a high quality representation of industry leaders. Excellent networking opportunity and great depth of exhibitors. Definitely recommend!

Brad Norris, Prince William County Government