How Verizon Won The War On Energy Inefficiency (Two Case Studies)
—
Cooling systems energy usage in mission-critical facilities costs 20% to 40% of total utility costs in a facility, depending on the type of systems and whether free-cooling is utilized. Energy conservation has been used in different forms for many years, but more users are looking to artificial intelligence to achieve the savings. Often, savings depend on weather parameters, equipment, operational methods, and personnel expertise. One concept becoming more popular is a form of artificial intelligence known as machine learning, where actual running conditions are used as live data to feed a continuous process and algorithms that increase energy savings, while maintaining reliable operation of the data center. Learn how Verizon employed machine learning to optimize energy usage from chiller plants and cooling equipment inside the data center itself.
This session took place on April 9, 2019
Please complete the following form to access the full presentation.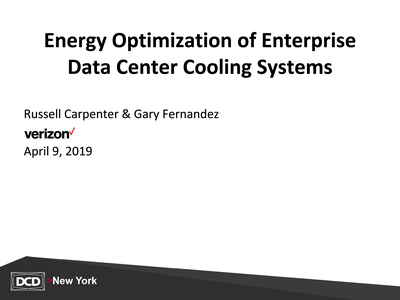 How Verizon won the war on energy inefficiency (Two case studies)