How to Foster Habits for Success in Data Center Management
This session took place on April 9, 2019
Please complete the following form to access the full presentation.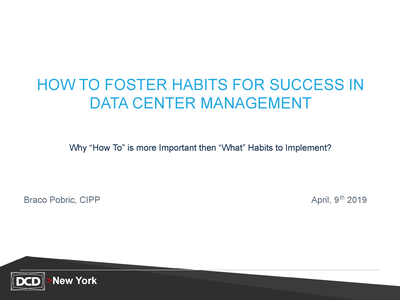 How to Foster Habits for Success in Data Center Management
In this highly dynamic and energetic presentation, Braco Pobric will share his research in the fields of Positive Psychology and Habit Development to demonstrate how new ways of thinking can help you become a more successful Global Data Center Manager.
Pobric will introduce the seven habits you need to develop to establish the right routines to be a productive DC Manager. You'll even learn how to improve the physical structure of your brain to build new habits, opening neural pathways so that you'll never "forget" your healthy new professional routines. What you learn won't just give you career tools to be a better DC Manager—it will also help you improve  aspects of your personal well-being for years to come.
Speakers