Building the Edge
Watch sessions on-demand
A global discussion on edge infrastructure & innovation
Cutting Edge: 3 things to know for successful deployment of edge data centers
This session took place on May 28, 2020
Please complete the following form to access the full presentation.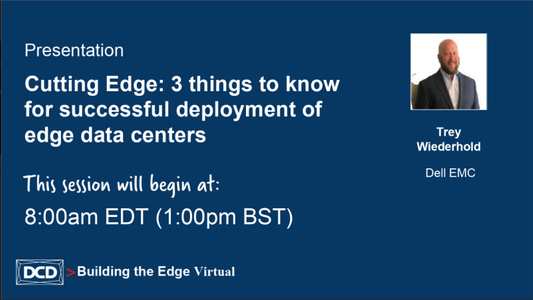 Cutting Edge: 3 things to know for successful deployment of edge data centers
Deploying at the edge is fraught with engineering peril, and deploying globally multiplies the complexity. What should businesses consider when deploying edge data centers?
Join this session to hear Dell EMC, winner of the DCD Global Award for Edge Data Center Project of the Year in 2019, discuss how they approach edge deployments. Trey will share his lessons learned and successes having deployed multiple edge data centers across the globe. Gain 3 key insights into the challenges faced and how to mitigate them - from project logistics to specific risk mitigation plans, to site team welfare when deploying in regions with unforgiving environments. Learn how these projects not only inspired innovation at the product level, but also in the deployment and ongoing sustaining processes of edge data centers.
Speakers