Tech Showcase: Power generation and supply
This session took place on July 21, 2021
Please complete the following form to access the full presentation.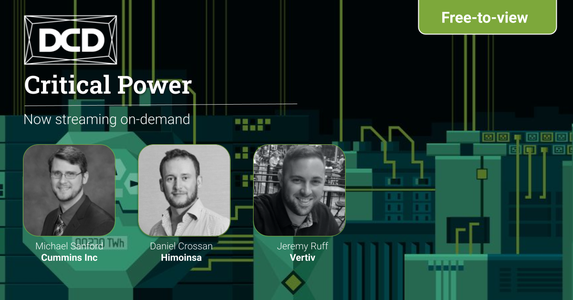 Tech Showcase: Power generation and supply
A series of quick-fire presentations showcasing the latest technologies to drive rapid innovation across power generation and supply infrastructure.
Vertiv - The power revolution: Powering the network edge with lithium-ion
The proliferation of the edge is impacting IT infrastructure and deployments and bringing about a sea change across industries. In this session, Jeremy Ruff will break down the unique uninterruptible power supply (UPS) requirements needed for edge deployments, from management to environment. He also will share how lithium-ion batteries can be the ideal back-up choice for edge locations based on their unmatched lifespan, performance in uncontrolled and harsh environments, and ability to enhance your overall sustainability.
Himoinsa - Generators for data center: availability, efficiency and flexibility
Know more about the criteria when choosing a generator set for a Data Center; the importance of guaranteeing the availability of power through redundant starting systems, dual power output, dual fuel supply, the relevance of a well-designed cooling system... In terms of efficiency, we will talk about the new trends in power supply and how the generator set option has become one of the reliable sources with which we can also reduce the carbon footprint if we use gas, after-treatment systems and other sustainable solutions.
Cummins - Diesel Generator Set Solutions for Aggressive Emissions Requirements
Understanding and adhering to emissions specifications is paramount when planning for any new data center project. Globally, regulators at the federal and local level are tightening limits on emissions constituents. Cummins has vast experience providing power solutions for data centers that can meet these mandates. In this session, learn about Cummins high horsepower products and how they can help you meet your permitting requirements, all while providing reliable backup power for your next data center.
Brought to You by