Examining the true impact of hyperscale demand on the data center value chain
—
As the demand for data center capacity continues to grow – CapEx spending from the top hyperscale operators totaled a record $120 billion in 2018, the role of the value chain — consulting engineers, construction managers, electrical contractors, and distributors/integrators — has never been more important, but the challenges they face continue to intensify. This presentation will highlight key findings from the report, The Impact of Hyperscale Data Centers: How the Wave is Changing the Value Chain.
The research reveals how the individual value chain members' roles have evolved, what their leading pain points are, and what they believe is needed to succeed in this new industry reality. Faith Technologies will provide a first-hand perspective on how they see the data center ecosystem of value chain players evolving to meet demand.
This session took place on July 21, 2020
Please complete the following form to access the full presentation.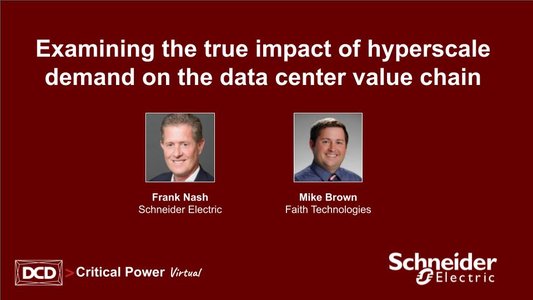 Examining the true impact of hyperscale demand on the data center value chain