Building at Scale
Watch sessions on-demand
The virtual conference on data center design & construction
Tech Showcases - Day One
This session took place on July 8, 2020
Please complete the following form to access the full presentation.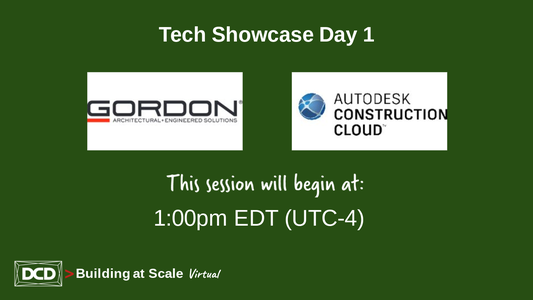 Tech Showcases - Day One
A series of quick-fire presentations showcasing the latest technologies to drive rapid expansion and innovation in the design and build of data centers.
1:00pm - Gordon: Innovative solutions for data hall construction
Selecting the most versatile and easy-to-use products is key to assuring long-term scalability and return on investment for your data center. Gordon's "Innovative Solutions for Data Hall Construction" introduces our latest structural ceiling, wall, and containment designs with all their performance features for consideration when making critical product selection decisions. We will cover design attributes of the various systems, and videos will demonstrate installation simplicity and application flexibility.
1:20pm - Autodesk: Using a centralized and connected tool to get you into operations quicker
Data centers and digital infrastructure have long been a part of modern life. But during a global pandemic, the need for the cloud, and the software it supports, has been taken to a new extreme. In today's quest for even faster deployment of mission critical facilities, it's imperative to find opportunities to shorten construction schedules and improve commissioning processes to get you into operations quicker. Join Autodesk Construction Cloud as we discuss how builders of the digital age can leverage connected platforms to centralize construction asset data from design to construction to operations.
Brought to You by