Building at Scale
Watch sessions on-demand
The virtual conference on data center design & construction
Scale-up case study: Evolving from single power stream to prefabricated modular blocks
—
The fast evolving digital universe and the increasing reliance on connectivity is driving the necessity for new data centers and the transformation of existing data center infrastructure. Speed to market, quality and scalability are the key requirements for every data center provider and operator, but how to satisfy this demand? Is modular prefabrication the solution?
Although not new technology, modular prefabrication is a disruptive way of approaching the design and build of intelligent data center facilities. By cutting construction time and providing potential upgrades it enables data center facilities to keep pace with growing demand. This session will explore the evolution from single power stream to prefabricated modular power blocks. Gain firsthand insights into the modular journey and how this can accelerate and bring on line a 9MW power stream in 9 days for a 28MW facility, and how the critical path challenges within a demanding program can be coordinated. Could embracing the fully immersive scale-up approach transform the way we design and build the data center facilities of today and tomorrow? Join us to find out.
This session took place on July 9, 2020
Please complete the following form to access the full presentation.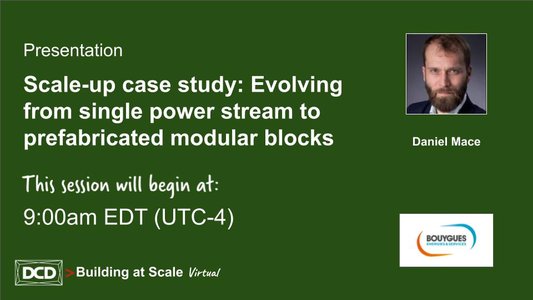 Scale-up case study: Evolving from single power stream to prefabricated modular blocks