Building at Scale
Watch sessions on-demand
The virtual conference on data center design & construction
Case Study: Delivering an 80MW data center development in East London
This session took place on July 10, 2020
Please complete the following form to access the full presentation.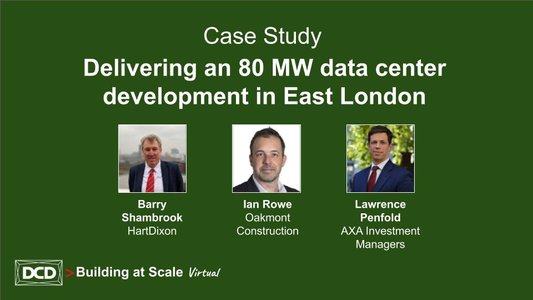 Case Study: Delivering an 80MW data center development in East London
Only 2 years ago the site was derelict, formerly contaminated pharma industrial land that had been remediated. Through an innovative investment model AXA funded the shell and core of the development, together with the 80MW 132kV power supply, and have made a contribution to the tenant fit-out internal infrastructure. This collaborative strategy has fed down to the procurement and delivery where the project manager for the shell and core, designers and contractor have cooperated with the fit-out team to adapt the design to the detailed needs of the data centre operator.
This case study will show how this investment model was realized, and share practical insight into the development and construction process from concept to delivery. Hear how this has acted as a catalyst to the regeneration of the rest of the former industrial site, which now includes a hotel, new HQ, university research building and a film studio, and how the latter has been provided with an opportunity to re-use waste heat from the data center.