Scala Data Centers was formed from UOL Diveo, the data center division of Brazilian online player UOL, earlier this year, with investment from Digital Colony. The company has already announced a new facility - SP3, its third in São Paulo.
We spoke to Scala's CEO, Marcos Peigo - who told us that half the new building is already sold - and Scala will be adding more capacity soon.
Expansão!
"We see very relevant opportunities in the region within our focus of operation and will invest in additional expansions, which will soon be announced," said Peigo, in an interview with DCD. "The State of São Paulo is the center of the country's data center and connectivity demand."
SP3 has been built as an extension to the existing SP1 facility, he said: "It meets the demand for expansion of our customers, with direct connectivity and at low cost and latency."
The need for the new facility was clear during discussions with customers before the launch of Scala, but the Covid-19 outbreak made its need more urgent, said Peigo: "We had already identified demand among our customers and this new context brought by the pandemic makes us even more confident about the consistency in the demand for digital infrastructure, which will perform in the coming months and years."
Scala's expansion will take the company beyond Brazil, he said: "SP3 is only the first phase in our expansion, which will increase the capacity available in Brazil, in the State of São Paulo, but will also start operations in other countries.
The new facility is in the same campus as SP1, which brings many benefits, said Peigo: "Some advantages are very obvious, such as reduced cost and latency for interconnection, in addition to the optimization of teams and costs, all of which benefit our customers."
The Brazilian data center sector is growing and maturing, said Peigo :"Today, we have few world-class players, compared to other regions such as North America and Europe, and our capacity is lower than the demand. Proof of this is the number of new data centers that have been built in recent years.
There is already reason to expect growth to accelerate beyond this: "Considering that the cloud migration journeys of large companies are still in their initial stages (about 80 percent of business loads have not yet moved into the cloud) and that the rollout of 5G networks will enable a series of new applications at the Edge, with a substantial increase in the amount of data generated and manipulated, we would already have an increasing demand for top-tier data center assets."
But he expects even more factors to contribute after the pandemic, as behavior changes at home and at work: "This will demand a society that is much more connected and accustomed to digital services."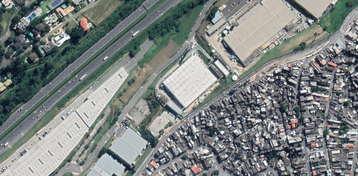 A very good purchase
The Diveo data centers were a very good purchase, said Peigo: "They were premium assets located in the São Paulo region with an enviable history - more than 20 years of uninterrupted availability in SP1, which is the largest commercial data center in Latin America in terms of production capacity.
Unlike a lot of data centers up for sale, they aren't overdue an upgrade, he said: "There's been a high rate of modernization due to the expansions and adjustments made in recent years."
They also bring a good customer base: "There's a high degree of occupation and customer profile (large companies and cloud service providers) that adhere to our strategy," he said, adding that as UOL Diveo had announced a move into services, "we perceive a very interesting opportunity in this strategic alliance, maintaining us as their infrastructure partners for their present and future demands."
Obviously enough, Scala's initial customers include UOL Group itself, and and a list of UOL affiliates including Compasso, PagSeguro and PagBank. Add in some leading companies - including B2W and Inbev - and some hyperscale customers which Peigo declined to identify, and the company has a portfolio of 280 customers.
But given this continuity, why has the brand name been changed: "We are not just changing the brand name," said Peigo. "We have built a new company, with the objective of establishing a Latin American platform of hyperscale-able data centers. The acquisition of these assets was just one of the steps of a more comprehensive strategy already underway, which aims to seek market leadership in our region, leveraging the investment capacity, experience and extraordinary team of Digital Colony, which controls more than 90 data centers worldwide, in addition to more than 200,000 kilometers of fiber and more than 350,000 points of mobile connectivity infrastructure."
Expansion cooling
SP3 will have 5,200 sq m (56,000 sq ft) of built area, and will cost around 200 million reais ($40m) to build. It will be certified to level three under ANSI / TIA-942-B, and will also apply for ISO 27001 and ISAE 340 certifications.
Among the features Peigo highlighted to us, the indirect expansion cooling system includes chillers, a free-cooling system, fancoils with network control intelligence and high-efficiency, variable-flow fans.
"The intelligent chillers are connected in a network for total control of the best efficient point of work," said Peigo. The data halls have aisle containment, but without raised floors, because that gives "better utilization and consequently better efficiency."
ASHRAE has now recommended a temperature of 27ºC (81ºF), to achieve a PUE below 1.5, but Peigo says Scala can't do that this time: "It's a matter of meeting the contracts of our customers who still do not allow temperatures higher than 25°C (77ºF)."
The facility has other environmental aims: "One of them is that in this data center we will not consume water in our cooling systems," he said. It will also use energy supply contracts with generation based on renewable sources,."
The electrical system has an N+1 topology: "The extra generator will give greater reliability than "Rated-3" in the electrical system," he said, and the diesel system is designed for more than 60 hours of fuel."
The UPS has lithium-ion batteries, there's a power distribution system with ATS and STS, and the fire prevention system includes two detection levels, one of which is VESDA and IG-541 gas. There are more than 120 digital cameras in the CCTV system, with video analysis and 120-day recording. Access control is by double card security check with biometrics.
Quotes are translated from Portuguese with the help of Google. Interview by Tatiane Aquim, editor of Datacenter Dynamics Brasil, translation/editing by Peter Judge.