Virginia remains the main hub of data centers worldwide. But while the area looks increasingly full, new companies are still popping up looking to serve the hyperscalers' insatiable demand for new capacity.
Two new debutantes, PowerHouse and CorScale, are set to launch new hyperscale facilities in Virginia in the near future. Both are newly-founded by large, well-established real estate firms. Both are backed by large investment firms. And both are set to develop large amounts of new capacity dedicated to serving the big cloud providers.
DCD visited both companies' maiden data center development sites – PowerHouse in Loudoun County's Ashburn and CorScale's outside Gainesville in Prince William County – and spoke to company executives about being the new kids on the block.
AREP seeks to become a power player with PowerHouse
In the heart of Ashburn, PowerHouse is opening its account with a sizeable data center project. The company, founded by American Real Estate Partners (AREP) and backed by investment firm Harrison Street, is seeking to start with an 80MW facility.
"Like a lot of other companies, it was Covid that really pushed it," says Luke Kipfer, vice president of data center development and construction at AREP/PowerHouse Data Centers. "AREPs portfolio was heavily in class A office space, so we've been actively diversifying. And our partnership with Harrison Street lets us go all in on the data center model."
The company is planning developments on three sites across Northern Virginia. Six buildings are currently in planning or underway totaling 2.1 million sq ft (195,100 sqm) and up to 338MW of critical power.
Sat on 10 acres and currently under construction, ABX-1 is set to be the first building completed. It will comprise one two-story 265,000 sq ft (25,000 sqm) building. Located at 21529 Beaumeade Circle in Ashburn, the first 15MW will launch in 2023; at full build-out at the end of the year, the facility will offer 45MW across six data halls. The site, which DCD visited in November 2022, is reportedly expandable up to 80MW.
Harrison Street and AREP acquired the site for $21.5 million in January 2021. The land, formerly home to a retail strip mall-type facility, was previously owned by Chirisa Investments, which bought the site in 2018 and had planned to build a 280,000 sq ft (26,000 sqm), 30MW data center.
DPR is the construction partner with PowerHouse on the facility. And despite being in one of the areas most affected by Dominion's surprise capacity issues in Ashburn, Kipfer suggests the site will have enough power for the launch of the first phase and Dominion should hopefully have the issues sorted by the time the facility is reaching full capacity around 2026. An onsite substation is being developed on part of the project which will serve both ABX-1 and surrounding facilities.
On Sterling's Pacific Boulevard, PowerHouse Pacific will comprise three three-story buildings totaling 24 data halls across 1.1 million sq ft (102,200 sqm). Construction is due to start in 2024 and complete in 2024/2025; the site will offer 265MW.
The Pacific campus was previously part of the former AOL headquarters and most recently used by Yahoo!. New parent Oath sold the 43.3-acre property in December for $136 million. And, finally, the company is developing a 23-acre site in Arcola's Arcola Boulevard. PowerHouse Arcola will comprise two two-story buildings and 12 data halls across 614,300 sq ft (57,070 sqm). The buildings will offer 54MW and 66MW. Construction is due to begin in April 2024 and end in 2025, with the second building finished in 2026.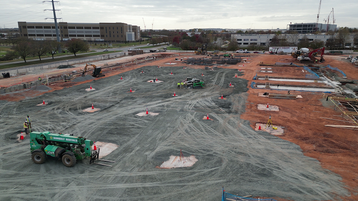 Kipfer said the sites aren't yet pre-leased, but there is "strong interest" from clients and the company expects them to be leased soon.
Before joining AREP, Kipfer was regional director at Direct Line Global and director of construction at Markley Group in the Boston area.
"I came out here just to be more involved in some of these larger-scale projects," he says. "In Boston, it was more Edge deployments, smaller enterprise, higher ed, pharmaceutical. So they had some real requirements, but they were all a one-off build. Even though the numbers and scale is different, the projects here are almost less complex. With a lot of hyperscale builds, it's the same widget 100 times over."
Kipfer said PowerHouse is an AREP-owned entity, with the projects operated in a joint-venture model with Harrison Street. While Harrison Street is well-versed in data center investments, AREP doesn't have a long tradition of developing data centers, and it's flexible in what it will deliver.
"While AREP's new to data centers, they've been a developer in this area for 20 years," says Kipfer. "We've got very deep contacts with brokers, with local utilities, all the players here that you have to know to make things happen. We're able to get a lot of sites before they come publicly to market, so we're able to get good sites and identify power."
"We're not limited to one development model. We're open to just about everything right now," he adds. "We're developing relationships with hyperscalers and understanding their needs; as long as it's something that has market viability, it's something that we're interested in. These guys are just building so quickly, we're basically giving them a head start in their deployments."
Prior to setting up PowerHouse, AREP acquired what is now known as Quantum Park in 2016 for a reported $212 million alongside hedge fund Davidson Kempner Capital Management from Verizon. The park is the former UUNet/MCI Worldcom site that was a key connectivity hub dating to the early days of the Internet; Verizon had an existing data center there and Aligned has since developed on the site. Last year, DigitalBridge-backed Landmark Dividend acquired a portfolio of assets in the Quantum Park campus.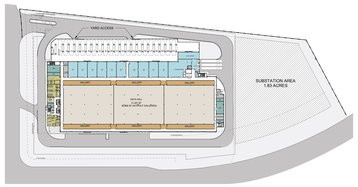 Harrison Street has a number of data centers under its ownership. January 2021 saw the company acquire the Pittock Block carrier hotel in Portland, Oregon, for $326 million alongside 1547 CSR, and in November 2021 it acquired CIM Group's stake in four US data centers co-owned with 1547. Harrison and 1547 have completed a number of data center deals together; the two companies previously acquired the Wells Building carrier hotel in Milwaukee, Wisconsin, for $7.25 million in 2020.
"Harrison are a knowledgeable data center firm, they've got a lot of experience that the team that it's great to work with, they know the market," says Kipfer, who adds the company is looking to expand out of Northern Virginia with Harrison's help.
On whether hyperscalers will continue to need outside developers, he says the combination of having the right sites and development teams, alongside the need for flexible capital deployment will mean there is always a need for outside developers.
"There's always going to be a certain need there. There seem to be a lot fewer individuals in the hyperscale enterprise teams that are really good at site development; a lot of them are focused on the nuts and bolts of a data center; the UPS, network methodology, things like that," he says. "Certain users have different priorities in terms of deployment of capital; some would rather lease it out and spread it out, and some want to own. "And that's where we've been flexible; we'll do long-term leases, we'll do leases with option to buy, we're able to work with a lot of different users' of needs for how they are deploying their infrastructure."
CorScale goes big in Prince William County
Like PowerHouse, CorScale is backed by a large and established real estate firm, this time in the shape of Patrinely Group. And it has the financial backing of real estate investment firm USAA Real Estate.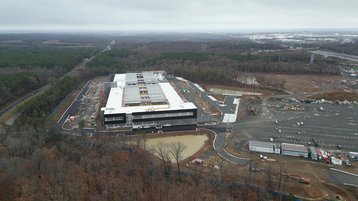 While not big names in the data center space, the two companies have the portfolio and capital to operate at scale, and have experience in the industry. Nic Bustamante, senior vice president at Corscale/Patrinely Group, tells DCD that the two companies have a history working together and developing enterprise data centers – usually in the 1-5MW range, but in some cases up to 20MW – as part of office developments. One of the most recent examples is HPE's new HQ in Houston, Texas.
"The company [Patrinely] had this experience building these smaller data centers, and for around five years considered getting into the hyperscale space. It is heavily diversified in real estate assets, and data centers are one of those real estate and asset classes that was interesting to them."
Like PowerHouse, CorScale isn't starting small. The company's debut project is a 300MW campus in Gainesville, Prince William County.
The campus, known as Gainesville Crossing, is located close to Manassas Battlefield and looks set to be joined by QTS and Compass once the two companies start development on the PW Gateway project. After breaking ground in early 2022, the first 72MW phase is expected to come online around Q4 2022 and will consist of a single two-story building with eight data halls and office space totaling approximately 483,000 square feet (44,900 sqm). At full build-out, the 130-acre campus will comprise 2.3 million sq ft (213,700 sqm) over five two-story buildings and 306MW of utility power. A Dominion Energy on-site substation will deliver power.
The site was bought for $74.5 million from Buchanan Partners in August 2020, by real estate firm Wolff Co, on behalf of Patrinely.
"We didn't have to spend a ton of time and resources putting together the utility plan for that project, it was already relatively de-risked," says Bustamante. "We have direct access to connectivity adjacent to the site, and the power plan for that area with Dominion is already really well vetted, so line of sight to power was really great at that site. It is closer to Loudoun and the core network market in Ashburn than something further south, and we thought it was kind of a no-brainer."
Discussions with an end-user are ongoing to close to agreeing on a pre-lease for the first building. While CorScale and Bustamante declined to name a customer, DCD understands AWS is in talks to be their first customer.
Bustamante said the closing of the site acquisition occurred around a month before he joined the company. He previously worked on data centers at Apple, Google, Microsoft, and Rackspace; and has been joined at Patrinely by Stuart Levinsky, formerly of Iron Mountain Data Centers, Switch, CyrusOne, and Cincinnati Bell.
"I got to be CorScale employee number one, so I could handpick our team," he says on what attracted him to the company. "It requires very little effort to get capital and get committee approval to deploy that capital, and I think that's a significant part of the execution; the visibility to property on a global basis, through our partner at USAA."
Prior to its official launch, Corscale's existence was revealed in a press release that said the nascent data center firm was signed up to use Ledger7860's carbon accounting package. Bustamante said the focus on green credentials is one of the ways the company is hoping to differentiate itself from other hyperscale-focused developers in the space and area.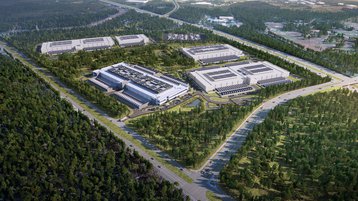 "These guys are also very comfortable with and prefer Green development. So they've already had a number of LEED Platinum projects. I see a lot of hyperscale developers who prefer not to do that; the traditional hyperscale data centers don't seek LEED Platinum, Net Zero type of approach." Another differentiation, according to Bustamante, is the company's ability to deliver complex projects quickly makes them a desirable partner.
"A lot of developers will say 'I need perfectly level, square, rectangular properties.' Our ability to execute on complexity was already pretty evident with the prior relationships."
As well as the Gainesville Crossing site, the company is planning a second Virginia development in the Kincora area of Sterling in Loudoun County. Sat on a 22-acre site, the company is planning a single 500,000 sq ft (46,450 sqm) building, consisting of eight 9MW data halls across three stories.
Other projects are planned in California and outside London in the UK.
On the potential capacity issues Dominion has in Loudoun's Ashburn, Corscale is confident it won't be affected thanks to its building timeline.
"We weren't going to start construction until 2024 anyway, so we think that our initial connection date and service date may not end up being impacted depending on how they perform fixing things in Loudoun," explains Bustamante. "You can expect us to do more in Virginia. I think we're pretty well positioned in that market to continue development there."
Going forward, CorScale aims to stay focused on greenfield development with some brownfield sites that make sense. On acquiring existing facilities, the company is less keen.
"We've looked at a few acquisitions and generally said no because they look more like repositions or they're relatively distressed and not of the right scale," says Bustamante. "We see a lot of capacity come on the market that isn't bad, but it is not at the magnitude that we like. We can't take a 20MW data center and turn it into a 50MW data center too easily."
Data centers need to be good neighbors in Virginia
While Loudoun is and will remain the epicenter of the world's data center industry, things are changing. Quantum Loophole is looking to bring millions of square feet of new data center space to Maryland, while Prince William County is seeing huge amounts of development in a short space of time.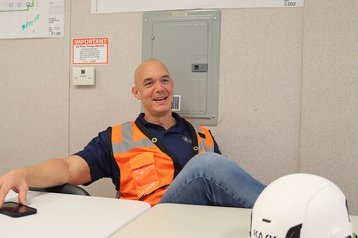 But as the geography of the industry changes, the way facilities look and operate will likely have to change too. CorScale's Gainesville site gaining planning permission, combined with the roll-out of new transmission lines, were the driving reasons behind local landowner Mary Ann Ghadban gathering other locals together to sell the initial 800 acres that make up part of the new PW Digital Gateway project.
Bustamante tells DCD the fact QTS and Compass are investing so heavily in land adjacent to CorScale is 'validation' of their idea of building outside of the area's traditional data center hubs.
However, he says the sheer magnitude of those projects means development needs to be very carefully considered to ensure it meets energy and sustainability requirements that locals are happy with.
"I fear data center development that is unchecked. Data centers need to be comfortable coexisting wherever they go, in any market. We're successful because we work hand in hand with the municipality and user groups; and we shouldn't find ourselves at odds with the local community.
"What I see in the Gateway Project is a whole lot of people concerned about those things and more, but just the sheer magnitude and scale of it. Hopefully, the green spaces that they put in will separate them from those things, but development needs to be very considerate not just to the battlefield, but to the locals who are very concerned about it."
In Loudoun and Ashburn, both Bustamante and Kipfer can foresee data centers getting taller, but also more aesthetic. Two and three stories are becoming more common, and DCD has heard rumors of an application for a five-story facility being submitted.
Over the summer Loudoun officials proposed new zoning rules for data centers that would also set out new environmental standards for building design and noise.
"A typical data center that is a big grey wall-to-wall box? I think that's pretty passé. And those days are probably behind us, particularly in Loudoun, and I see that becoming table stakes in PWC and other markets," says Bustamante. "Those operators that design data centers that have long mechanical gantries and generators spread out across hundreds of acres, I think those users are going to have more problems obtaining consent to develop, and they're also going to continue to be viewed negatively."
"I think you've got to build a product that is Class A. People are going to be held to a higher standard [going forward], and I think that's only fair given the capital that's coming in," Kipfer agrees.
"Ashburn is never going to go away," he adds. "This is a desirable place to be in terms of connectivity and power. But we want to keep building here, and if we don't keep a good relationship with the county and the neighbors, we know it's going to get turned off."