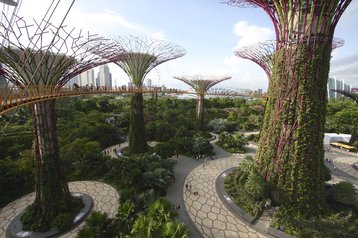 Green and high
Announced in July, the high-rise data center is a government-backed project to study the technical feasibility of a green, high rise facility in Singapore.
Alongside the Info-communications Media Development Authority of Singapore (IMDA), it also involves ICT solutions provider Huawei and Keppel Data Centres.
Never one to leave an interesting technical challenge alone, Ed Ansett, the co-founder and chairman of i3 Solutions Group, walked a packed room through a hypothetical data center design exercise at the DCD>Zettastructure conference held in Singapore this week.
For a start, the need to cater to a wide range of customers means that the high-rise data center would need the flexibility to accomodate a variety of IT load densities and infrastructure topologies, said Ansett, who emphasized that his presentation is merely an intellectual exercise and does not represent the stakeholders.
It's going to be huge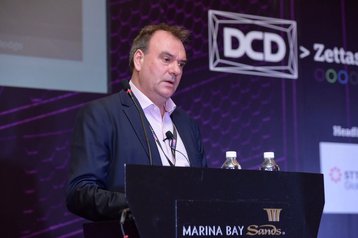 Based on a power budget of 50MW, a back-of-the-envelope calculation works out to an estimated gross floor area of around 40,000 sq m - not that much larger than a typical multi-story data center in Singapore, said Ansett. "It is probably going to be more financially viable to go with 100MW," he noted.
In his calculations, he also pegged the floor-to-floor height of this data center at 6 meters, and the plant floor height at 8 meters, meaning that a 20 story high-rise data center would practically double the height of an office tower with the same number of floors.
The good news is that Ansett doesn't see structural loading as an issue. He dismissed it as just another engineering consideration: "Don't let structural engineers tell you it's a big deal." Of course, a taller building is not only costlier, but may also be restricted to certain parts of Singapore due to building height regulations in different parts of the island.
Hot and humid
More importantly, the target Power Usage Effectiveness (PUE) of 1.1 would present an improvement of between 15 to 20 percent over what is generally considered to be the lower limit possible with conventional technology, Ansett said. The solution? "There is only one way to do that: You have to operate at much, much higher temperatures. It will likely require bespoke cooling plants."
There is at least one problem with the higher temperature range. In his presentation earlier in the day, Microsoft's senior director for data center strategy and architecture David Gauthier revealed that the technology behemoth uses open air economizers across almost 100 data centers around the world – except for its Singapore facility and a handful of other locations.
"Humidity is a problem," conceded Ansett, who also noted that direct air cooling may be out of the picture considering the haze that periodically blankets the island as a result of forest fires in neighboring regions.
A radical rethink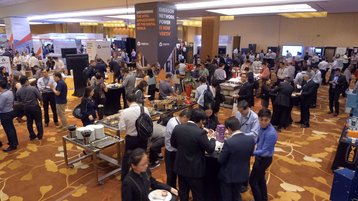 In addition, the low amount of space on the rooftop translates into the need for specialized system for cooling: "You won't have the surface area you need to do conventional cooling; you're not going to have the space on the roof."
If it was not evident before, it should be clear now that a radical rethink is needed to make a green, high-rise data center work. A lot of computer modelling would be required to validate any proposed design.
"The cooling solution in this instance will be unorthodox since we have a 20-story data center and a very low PUE. [The design will need] to be modelled before we gain confidence in the solution," Ansett said.
Keeping costs down
And if you are already looking to throw away the rulebook, why not go the full monty? Ansett proposed the radical idea of doing away with backup diesel generators to increase the usable IT space while paring down on the cost and complexity of the high-rise facility.
"When was the last island-wide outage [in Singapore]?" he asked. Turns out the last island-wide power outage in Singapore took place in 2002, while the last significant one happened more than a decade ago, in 2006.
"Instead of filling the building with generators [for backup power], why not just bring multiple sources of [power] supply from different zones on the power grid," said Ansett, referring to the segregated, self-healing design of Singapore's power grid.
He was quick to admit that the substantial cost of routing the requisite high voltage power cable across the island – such cables in Singapore are deployed underground – may render his proposal untenable.
The question of acceptance
This radical proposal will likely remain stillborn in the absence of substantial changes in the industry. Crucially, there is no way for such an unorthodox design to get accredited to the influential Tier Certification standards of the Uptime Institute.
"We require an independent power source under the data center operator's control," confirmed John Duffin, the managing director of Uptime Institute in South Asia, in response to a query from DCD. Moreover, this independent power source must also have stored fuel, though it doesn't necessarily have to be diesel.
The million-dollar question boils down to whether customers will accept running their data centers at higher temperatures. Ansett said: "Even the most progressive companies will typically let you operate at 32 degrees Celsius; I've never see anyone who operates at 35 degrees Celsius."
He pointed to the widely-referenced recommendations by ASHRAE (American Society of Heating, Refrigerating and Air-Conditioning Engineers) for allowable temperature limits for computing hardware, which he strongly feels are not adequately substantiated, and are a hindrance to more experimental designs.
"The solution is either more transparency from ASHRAE to substantiate their data or an independent scientific evaluation of IT equipment performance to disprove ASHRAE limits," he wrote in a follow-up email.
This is probably where the state-sponsored Tropical Data Center (TDC) project, announced in June 2016, comes into play. As we reported at the time, the objective is a successful proof-of-concept to demonstrate that data centers can function reliably at temperatures of up to 38 degrees Celsius and ambient humidity of 90 percent and higher.
It is certainly something worth watching out for.