South Africa's climate is hostile to running efficient data centers: the high average temperatures limit the amount of cooling that can be provided by outside air, so facilities usually have to resort to alternative, energy-intensive cooling systems.
Colocation provider Teraco has just opened the largest commercial data center in Africa, near Johannesburg. While it was building the Riverfields facility, the company updated its Isando 7 data center, which boasts a PUE that would be the envy of providers in similar climates.
Situated on the highveld plateau, Johannesburg has a cooler climate than much of South Africa, but it still reaches an average daily temperature of 25.6°C (78.1°F) in the summer month of January, and temperatures can go as high as 38°C (100.4°F).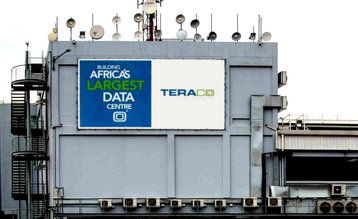 Feeling hot hot hot
Founded in 2008, Teraco offers colocation services to the whole of Africa, based on South Africa's superior electrical power and communications infrastructure. Its data center in Isando, Johannesburg, opened in 2010, and has been expanded since.
The site was built with traditional CRAC units for indirect free cooling, and Teraco's upgrade doubled the cooling capacity to 2MW per data hall, increasing efficiency without sacrificing reliability. This feat won it the DCD Energy Efficiency Improver's Award, presented at the end of 2017.
To meet its target, Teraco told DCD, the only feasible solution was a chilled water system, which delivers partial free cooling for approximately 65 percent of the year, and provides a steady supply of water at 14°C (57.2°F). The IT space uses cold aisle containment and the waste heat takes the circulating water up to 22°C (71.6°F).
Further efficiencies could be provided using an adiabatic (evaporative) system, but this would increase the site's environmental impact by using large quantities of water. "No additional water is used except for the 'one-off' filling of the system," Brendan Dysel, head of data center systems at Teraco, said in the project description.
The data center uses three CyberCool 2 chillers and 14 CyberAir 3 chilled water units from climate control vendor Stulz, which consulted with Teraco, helping the provider to implement a system with sequencing control and sensors.
As well as efficiency, Teraco's customers want reliability - and any interruption of cooling could quickly result in facility overheating and cause systems to shut down.
A tight ship
The cooling system is backed with an uninterruptible power supply (UPS), while an external UPS also backs the controller and the pumps.
In the event of a power failure, buffer tanks provide a reserve of chilled water that can keep the data center cooled for ten minutes - more than enough time, since the chillers have a "quick start" feature which will bring them up to 100 percent load within two minutes.
The three chillers provide N+1 redundancy for the cooling needs of the data center, but in mixed mode, or free-cooling mode, they are all run in parallel. This reduces the overall energy consumption because they operate more efficiently in the mixed or free cooling mode. It also means that the system will remain online if any one of the chillers fails. Only two chillers are used when the site is operating in DX mode.
Any chiller can be taken offline for servicing without shutting down the data center, making the system concurrently maintainable.
"[This] is crucial for reliable uptime," Dysel said. "If you have to shut down the total cooling for maintenance reasons, you have to shut down your data center, which is of course undesirable."
This variety of modes sets strong requirements for the air handling at the site. The chillers provide real-time data and control. Energy meters were installed throughout the data center and showed a measured efficiency within two percent of the predicted figure.
The story is not over. Teraco is monitoring the system through its building management system (BMS) and data center infrastructure management (DCIM) systems, and is working with Stulz to optimize the mixed and free cooling modes further, for example by using sensors installed throughout the server room and chiller plant, and perhaps increasing the water temperature to extend the use of free cooling regime.
"The ultimate goal is to deliver even greater energy efficiency on an ongoing basis," Dysel added. "Further DCIM enhancements can create a heat map of the server room to identify any hot spots that need attention."