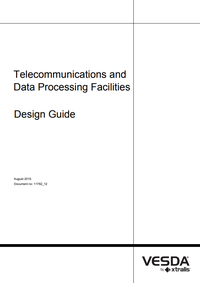 This Design Guide provides guidelines in the design and deployment of VESDA smoke detection systems in telecommunications, data processing and information technology facilities.
The environments envisaged include the following:
Fixed and wireless telecommunications facilities.
Small remote site equipment enclosures, such as those used to house wireless transmission equipment.
Data processing and computer facilities including server rooms, internet data centres, data warehousing facilities and co-location centres, containerized or mobile "data centres".
Telecommunications/data communications and underground cable tunnels/vaults or controlled environmental vaults (CEV).
Terrestrial and satellite broadcast facilities for radio, television and the Internet.
Power and other essential services support infrastructure for the above installations.
In the remainder of this Design Guide, the above environments will be referred to as "IT/Communication
Facilities"